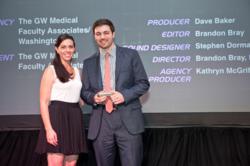 Smartphones are the new television. The best way to connect with patients and potential patients is through compelling storytelling.
Washington, D.C. (PRWEB) June 26, 2013
The term "Top Docs" has a dual meaning at The George Washington University Medical Faculty Associates (GW MFA). On one hand, it refers to the medical group's incredibly skilled physicians, surgeons and researchers. But just as important, "Top Docs" also means the nationally recognized documentaries (and videos) produced by the group's groundbreaking marketing team—an effort that's recently resulted in 26 national and industry awards—often in competition against the biggest names in the film world. In both cases, GW MFA's "Top Docs" are leading the industry in finding new and better ways to market to, and connect with patients.
The topics are impressive, and so are the awards. Survivor: Cara Scharf, about a patient's battle with breast cancer, has garnered a Webby, two ADDYs, a Telly and a CINE Golden Eagle Award. Out + Pace, a documentary on GW MFA doctors providing pacemakers to the underprivileged in the Honduras, won Silver Addy and Telly Awards. The web series called EpiCURE, with Chef MDs just earned a Telly award. It pairs leading chefs with top GW MFA doctors and a former Food Network host demonstrating healthy (and doctor approved) recipes. Just this week, Let Us Begin, which chronicles the life of an ALS patient, won a CINE Golden Eagle.
In all, the GW MFA three person video team of Brandon Bray, Dave Baker and Christopher Cymbalak has been awarded with 11 Tellys, five W3 awards, three One Club Entertainment awards, four CINE Golden Eagle awards, three ADDY awards and one Webby Honoree award for its work. Topics of other documentaries and web videos include the GW MFA House Call Program and GW FMA's move from paper to Electronic Health Records. A full list of titles and awards is available upon request.
Along with awards, the videos have garnered thousands of hits online, and countless views in doctors' waiting rooms at GW MFA, where there are more than a million patient visits a year. An accompanying online cookbook for EpiCURE with Chef MDs saw more than a thousand downloads in its first 60-days online.
So why does a medical group invest its time and resources to produce these documentaries and videos? "Smartphones are the new television. The best way to connect with patients and potential patients is through compelling storytelling," says Kathryn McGriff, Director of Marketing for GW MFA. "The difference between our content and most of the content on social media, especially in health care, is that we don't do it with a flip cam or through a big ad agency which commands tens of thousands of dollars per video. We've invested to deliver well-produced, self-produced content. Our doctors make a difference in their patients lives. Hopefully, the awards confirm that we're communicating their messages properly."
For media interviews and information, please contact Marc Silverstein at marc(at)onthemarcmedia(dot)com or at (202) 716-9123.