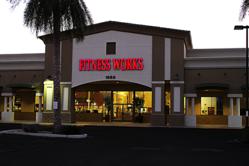 The Best Fitness Solutions in Maricopa County Arizona
(PRWEB) April 24, 2013
Fitness Works, fitness clubs have been serving Arizona residents with "The most enjoyable, results driven atmosphere", since 1992. Not only does Fitness Works provide gym facilities to Maricopa County residents, they are also publishing their fitness & health training expertise online, to the entire USA. They are Merging fitness experts, and utilizing their fitness blogging knowledge for online publishing purposes.
"Many people dream of living happy lives full of health and vitality, but weight is often the main impediment. A proper fitness regime may be adapted to address this issue once and for all," says Rob W., a leading Fitness Works Trainer. Besides that, having a positive mind state would be important while visiting the fitness gym. All your motives should be set straight, including clear objectives of what would be done to achieve them.
Motivation is always considered the best contributor towards losing weight. It therefore makes sense to develop a stable attitude when at the gym, this is the only way one can become successful in burning calories.
"Old habits tend to die hard, but the truth is that one requires patience and proper lifestyle planning in order to reap the benefits of fitness," says Rob W. There are times when you may fail to attain the preferred goal, but that doesn't mean all hope is lost. Just give yourself enough time and continue exercising frequently while also eating healthy. After achieving a specific fitness goal, reward the achievement though food should not be included among your incentives. Congratulating yourself well for all successes achieved is quite important; it would improve confidence levels and also the moral that's needed to go all the way.
Beginners should avoid certain places or companions who may trigger unreasonable eating habits, this even means declining offers for birthday parties where all kinds of food would be served in plenty. "Exercise must be supplemented with correct eating habits; this can be done by maintaining a highly nutritious food plan with low-fat concentration," says Rob, a Fitness Works trainer & nutritionist.
A quality workout is the cheapest alternative to purchasing fat pills or other chemicals that promise fast relief. Furthermore, hiring a qualified trainer may help in speeding up the entire process. This expert knows everything concerning food and training, plus all the ways that they can affect your body.
Some individuals still think that workouts are only meant for the affluent in society, but contrary to this misconception anyone is free to train since most gyms have flexible membership plans to cater for all people. Only a private coach can set up personalized fitness schedule, which will generate results in the least time possible, with this kind of assistance one would avoid common errors that are experienced by beginners.