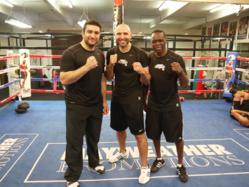 Lockport, NY (PRWEB) May 31, 2013
Lockport's Amer Abdallah, the reigning W.K.A. United States Light Heavyweight champion, has his sights set on bringing home the first world title to Western New York. At 13-0 (7 KOs), Abdallah is currently the #1 ranked Kickboxer in the country. "At this point in my career, I feel stronger, faster and smarter than ever. At 35, the odds are stacked against me, I'm stacked against the odds," Abdallah stated.
To capture his lifelong dream, Team Abdallah has sought out one of the best boxing trainers in the world, Jeff Mayweather. "I've had a great relationship with Jeff (Mayweather) for quite some time and have seen him work with countless world champions. I love how he trains guys in the gym and more importantly than all of that, he is an absolute class act. I'm confident what Jeff brings to the table will help me win a world title," Abdallah added.
Mayweather, who held the IBO Super Featherweight world boxing title comes from the world famous Mayweather family including brother's Roger and Floyd Sr. Mayweather and nephew, boxing superstar Floyd Mayweather. All of the Mayweathers train out of the infamous Floyd Mayweather Boxing gym in Las Vegas, Nevada. "I'm anxiously looking forward to working with Amer, he's almost like family. I have only heard good things about him and I hope to add to what he already possesses. We already have a wonderful relationship outside of the ring and I think together we will make a great Team and continue to add to his already illustrious career," Mayweather stated.
"The Mayweather style is perfect for Amer who likes to counter off his opponents. I'm always amazed at how quickly he picks up on new techniques and strategies," manager, Ahmed Imamovic stated. World-renowned trainer Jeff Mayweather will be the new face in Abdallah's corner along with longtime trainers Corey Webster and Jim Andrello.
Abdallah plans on holding his next training camp between both the Mayweather gym and the Lockport Athletic & Club in preparation for his next fight. "Having been in the Mayweather gym over the past few months and seeing the caliber of fighters that train there really motivates me. You have to be sharp and at your best all the time," Abdallah said.
Adding to his team's arsenal, Abdallah reached out to Buffalo's third franchise, Team Mesi. "Baby" Joe Mesi and his father Jack Mesi have been extremely successful in marketing Joe during his undefeated reign as the top seeded heavyweight in the world. "We've been working with him off and on... We've been to his fights. He's kind of won our hearts and attention," Jack Mesi said. "We're going to prime him and get him ready to be the world champion. It's not exactly boxing but it's close enough. He has the love [for his sport]... This kid deserves the best shot we can give him."
"I was raised in Western New York went to school in Lockport, opened my fitness club, and cut from Western New York cloth. It will be an honor to deliver a world title to my hometown that has stuck with me through thick and thin," Abdallah said.
About:
Amer Abdallah is CEO and President of both Lockport Athletic & Fitness Club and Lace Up Promotions. Lace Up has been hosting kickboxing, boxing and Muay Thai events around the upstate New York area since 1998 and has opened markets in Syracuse, Rochester and Connecticut. They have hosted events in Texas and New Jersey. "It's been such a blessing to have an opportunity to do what I love and be a part of so many communities. In each town we promote these events we feel right at home," says Abdallah. Lockport Athletic & Fitness Club offers cardio kickboxing, spinning classes, yoga classes, and full gym workouts in its fitness center.