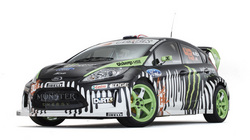 Palmdale, CA (PRWEB) July 7, 2010
In 2008, Ken Block shook up the automotive world with Gymkhana Practice--the first in a series of viral videos. Seventy million views later, Block has teamed up with the Gymkhana Grid series to bring the action to you live. Starting with two events in 2010, these races will be lined with purpose-built, high-powered machines, piloted by some of the world's biggest names in motorsport, pitted against each other in a heads-up race against the clock. The courses (co-designed by Block himself) are guaranteed to provide big smoke, long slides, excessive speeds and a challenge to all who battle for the crown.
"Ever since we filmed the first Gymkhana clip, I've been itching to not only get my professional racing friends to be able to come and play with me in this incredibly fun, sideways and technical motorsport, but also to make it possible for amateur drivers to participate, too " says Block. "And Gymkhana Grid does exactly that."
Founded by Christopher Willard, the Gymkhana Grid series seeks to be more than a one-off event. With years of organizing track days under his belt, as well as co-founding the Redline Time Attack series, Christopher shared Ken's passion for the sport and sought his expertise on course design, as well as overall rules and regulations. The two then presented the Gymkhana Grid Invitational, as well as an inaugural grassroots event.
The first event, being held August 7-8th in Hollywood Park, CA, will feature pro and amateur racers competing head to head, and testing the course layout with anything from a rear-driven sports car to all-wheel-drive sedans. For those new to the sport, there will be workshops and schools to help grow the awareness of gymkhana on the grassroots level.
Then, on December 3-4th, the first Gymkhana Grid Ken Block Invitational will kick off at Irwindale Speedway in Irwindale, CA. Competitors will range from rally racers like Travis Pastrana and Dave Mirra, to drifters like Vaughn Gittin Jr. and Tanner Foust. This will be the first event of its kind, promising to not only provide competitors with a new and exciting racing format, but also to give spectators a true all-out, tire smoking, sideways sliding race. And all of this is just a glimpse of what will be coming from Gymkhana Grid in 2011.
Ken Block brought the term "Gymkhana" to the masses through viral videos such as Gymkhana Practice (2008), and Gymkhana Two: The Infomercial (2009). These two videos set the standard as to what Ken saw as a modern interpretation of a traditional form of racing, and in turn gained tens of millions of views worldwide. With its origins dating back to a style of horse racing (also known as gymkhana), the sport requires not only physical driving skills, but mental training as well. Courses are set up with both precision driving and high speed in mind, with a pre-determined sequence of drifts, figure 8s, donuts, and slaloms that the driver must memorize.
While the sport of gymkhana has a niche following in countries such as Japan and England, Gymkhana Grid introduces much bigger courses designed for high-powered cars and versatile drivers who can call upon a varied list of motoring skills, from drifting, rally racing and road racing. Only the most well-rounded racers will prevail.
More information, such as rules and regulations, can be found at http://www.gymkhanagrid.com
For sponsorship information please contact:
Zack Sugarman of The Wasserman Media Group for our marketing website invitation link.
760-602-6200
For more Gymkhana Grid & The Ken Block Invitational information please contact:
Chris Willard
661-202-7220
For all media requests please contact:
Laura Sokolosky
661-992-2383
# # #