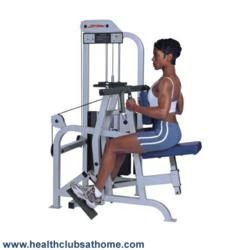 Gymkit UK are fast becoming the leading supplier of refurbished commercial fitness equipment in the world, and with more than 5500 machines of all makes and models in stock for the most competitive prices, why go elsewhere?
(PRWEB UK) 31 January 2012
International commercial fitness equipment supplier Gymkit UK has cast its export net even further afield in 2012 with a new deal signed to ship commercial gym equipment to Kazakhstan.
The agreement will see the thriving fitness equipment company supply gyms in the ninth largest country in the world with Concept 2 rowing machines, multi gyms, Precor 556i Experience elliptical cross trainers, Precor 846i Experience upright bikes, olympic free weights and Precor 956i Experience commercial treadmills.
All of the machines are refurbished commercial fitness equipment, and all renovated to the highest standards, a standard that has seen Gymkit UK rise up to become one of the UK's great export success stories. Indeed, the Kazakhstan gyms are just the latest in a long list of Gymkit UK's many global clients, with Poland, Italy, Croatia and Greece in Europe, to South Korea, Antigua and even the Reunion Islands, all turning to the esteemed fitness equipment company for all their gym needs.
Gymkit UK, part of Health Clubs at Home, refurbish commercial fitness and gym equipment from everything such as treadmills, elliptical cross trainers, exercise bikes and multi-gyms, to rowers, strength machines and vibration plates, and provide well-known gym equipment brands like Life Fitness, Technogym, Precor and Concept 2 to countries across the world that may have previously never dreamt of using such high-quality machines.
Gymkit UK's Managing Director, Howard Braband, said he was delighted that the company was continuing to expand its export business, and noted that no matter what country it was, there was always high demand for the same quality machines.
He said: 'Treadmills and elliptical cross trainers remain the most popular fitness equipment choice, along with exercise bikes and rowing machines, and each gym quality fitness machine goes through a strict quality control programme before being sent out.
'Commercial Gym equipment parts are also difficult to obtain in many of the countries we ship to, and Health Clubs at Home have a huge stock of parts from all of the main fitness equipment companies.'
Gymkit UK now has an enviable reputation in the fitness industry of being able to supply one of the widest ranges of gym equipment to almost anywhere in the world, and with every piece of refurbished equipment sent out carrying the renowned full parts and labour warranty, it's not hard to see why.
For more information about how Gymkit UK can service your gym needs, wherever in the world you are, call Howard Braband on Freephone 0808 149 3222 or visit http://www.gymkituk.com.
###