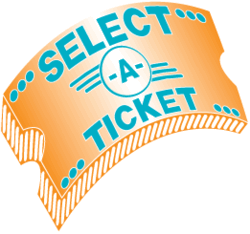 Select-A-Ticket has been in business for 34 years as an experienced, trusted and secure ticket broker
Riverdale, NJ (PRWEB) August 07, 2012
New Jersey ticket broker Select-A-Ticket is excited to announce Kellogg's Tour of Gymnastics Champions tickets may be ordered through their website for all performances across the country.
Featuring past and present Olympic champions, Kellogg's Tour of Gymnastics Champions tickets are recommended for serious U.S.A. gymnastics enthusiasts. This is going to be one of the most exciting events in gymnastics for fans, and many are already looking forward to it. Anticipation has been building as more news about the tour is released and the current Olympics in London are underway.
The tour will visit 40 different markets, giving fans all over the country the opportunity of a lifetime. This tour presents proud fans a very rare chance to see some of the best gymnasts in action. Having tickets to Tour of Gymnastic Champions allows supporters to see the best male and female athletes, lead by Nastia Liukin, the all-around Olympic champion in 2008. This exciting tour also includes up-and-coming gymnasts local to the event who themselves may go on to become champions someday.
Many gymnastics and sports fans have been following the London Olympics with great interest. Serious and casual gymnastics enthusiasts alike would welcome the ability to see their favorite athletes perform live. Tickets to Tour of Gymnastic Champions help provide the perfect opportunity to see some of the gymnasts who make up this great team. For those unable to visit London for the Olympics, this is the next best thing. It's an opportunity that should not be missed.
Due to the demanding schedules these athletes maintain, different gymnasts may be featured in different cities but those with Kellogg's Tour of Gymnastics Champions tickets will definitely be in the presence of world class talent and have the chance to see some favorites. One is Gabby Douglas, the 2012 Olympic Champion, known for her impressive vaulting skills. Others include Jordyn Wieber, of the 2012 Olympic Team; Jake Dalton, 2012 Olympian and gymnastics team member at the University of Oklahoma; and John Orozco, 2011 World Championship bronze winner and 2012 Olympic team member.
The 40 city tour is slated to begin in September and those procuring tickets to Tour of Gymnastics Champions early will benefit from it. Some of the major locations include Hartford, Brooklyn, Louisville, Dallas and Las Vegas. Smaller cities are well-represented, too. Some of the smaller locations that the tour will visit include Lubbock, Des Moines, and Lafayette, LA.
About SelectATicket.com
Select-A-Ticket has been in business for 34 years as an experienced, trusted and secure ticket broker. Select-A-Ticket sells tickets to Broadway, Concerts, Sports, and Family Events. Select-A-Ticket has been in the ticketing industry since 1978 and is a proud member of the National Association of Ticket Brokers (NATB).
For a complete list of available tickets to major events, go to http://www.SelectATicket.com or call 800-735-3288 to order tickets by phone. Select-A-Ticket is happy to help you find the right seats to any and every entertainment event.