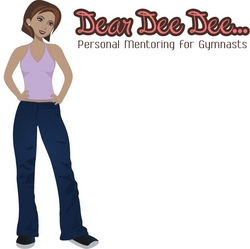 I've always said that gymnastics represents 'my first life,'
Los Angeles, CA (PRWEB) July 19, 2009
Dee Foster (Theriault), a former USA and NCAA national champion gymnast, is planning to give today's young gymnasts - whether they're Olympic hopefuls or not - a decidedly unique advantage in their sport with the launch of http://www.DearDeeDee.com and THE Dear Dee Dee… BOOK SERIES: the first-ever mentoring website and children's book series created exclusively for gymnasts.
The July 14-15 two-day interactive vote for the first book's cover has concluded, and the public has spoken. The winning book cover will be revealed - and the book is available for pre-order - on Friday, July 17. Foster's mentoring services - which include five different packages - will be available when the full website launches end of July.
Foster has been a retired gymnast for over 15 years. In fact, after spending 17 years as a USA national team member (she qualified for the 1988 Olympic Trials, but was forced to scratch the meet due to a last-minute ankle injury), and carving out an historic career at the University of Alabama, Foster ditched her leotards and relentlessly pursued success as a branding, marketing and PR expert spanning the sports, entertainment, music and real estate industries.
Then, about two months ago, the founder of Perfect Ten Consulting had an epiphany, spawned from a conversation she'd had with her husband Matt Theriault. Foster realized that, despite having enjoyed professional success in an industry far-removed from the chalk buckets, four-inch balance beams and perfect landings that had years ago been her whole world, something was missing from her life. Her Dear Dee Dee… website and book series are the result of that epiphany.
"I've always said that gymnastics represents 'my first life,'" said Foster. "I devoted seventeen of my first twenty-two years on earth to the sport and, by the time I'd retired, I was really ready to start my second life - away from gymnastics. Now, after all this time, I realize that I miss being of contribution to the sport. I can't compete anymore, but mentoring young gymnasts - at every age and level - is how I'm certain I can give back. Gymnastics, my coaches, teammates and all the amazing experiences I had served me remarkably well in life. It's time for me to pass those life-lessons along to a new generation of gymnasts."
Calling Huntsville, Alabama "home," but a resident of Los Angeles for the last 11 years, Foster experienced the best and the worst of life as a highly talented gymnast, but only has fond memories and disciplined self-reflection to recall those experiences.
"Inside and outside the sport of gymnastics, there are some ill-informed perceptions," said Foster. "I've seen and read countless stories positioning the sport of gymnastics as torturous, and its coaches as ogres. Through my membership mentoring site and book series, I want to share different stories with today's competitive gymnasts, recreational gymnasts who are just getting started in the sport and their parents."
Stories, she says, that don't include bitter recollections of abuse, neglect or unhealthy hyper-competitive environments.
"My stories illustrate the fact that torture and ogres weren't a part of my gymnastics experience. I trained with some of the premier coaches in the world, including (1984 Olympic coach) Don Peters, Bela Karolyi, David and Sarah Patterson, Kevin Brown and Rita Brown. I continue to feel gratitude for the ways they contributed to my success - both in and out of the gym," said Foster. "I also had incredibly supportive parents who understood that they - not my coaches - decided what was best for me. Sure, I had some challenging times, but I wouldn't change one thing about those challenges. They helped shape my character. With all the controversy surrounding the gymnastics, I think these are important things to share with the kids growing up in the sport now."
For more information about the http://www.DearDeeDee.com two-day interactive vote, THE Dear Dee Dee… BOOK SERIES, or Perfect Ten Consulting, contact Dee Theriault by phone at 310.541.2022, or by email.
ABOUT PERFECT TEN CONSULTING
Perfect Ten Consulting (PTC) offers highly specialized professional consulting with far-reaching benefits to myriad constituents including professional athletes, businesses, brands, entrepreneurs, home-based professionals, corporate professionals and entertainment-industry professionals. Our services also benefit those who are time-challenged and over-extended.
PTC is founded by Dee Theriault - a former USA and NCAA national and international champion. With over 15 years experience as a branding, marketing and public relations specialist, she has a created a distinctive formula for inventing possibilities and manifesting desired results.
# # #