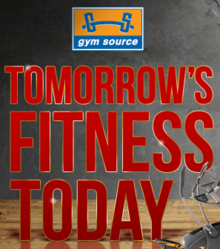 Gym Source is big-time, real-deal and it shows in every aspect of how they do business.
New York, NY (PRWEB) December 05, 2012
Having completed the design, equipment sourcing and installation of 6,300 square feet of state-of-the-art fitness space for Golf & Body NYC, Gym Source is thrilled to earn high praise from facility founders Michael Visconti and Steve Login. This premier club, the first of its kind in Manhattan, is scheduled to open in December, 2012, at 883 Avenue of the Americas.
In his capacity as on-site project manager, Visconti called out the unique expertise that Marty Weinbaum, Gym Source commercial sales associate, and the entire Gym Source team provided during the project.
"Marty Weinbaum and the rest of the Gym Source crew did an amazing job," Visconti says. "They were unbelievably respectful of my nearly-finished site—thorough, neat and professional. They are big-time, real-deal and it shows in every aspect of how they do business. It was evident—very early—that Gym Source had their entire scope of work under control. I can't thank them enough."
Golf & Body NYC will offer an urban oasis for golf and fitness enthusiasts. In addition to cutting edge golf simulation technology and practice greens, the facility boasts over 6,300 square feet of designated fitness space, including: a 3,500 square-foot main fitness area, an 1,850 square-foot physical therapy room, and a 1,000 square-foot VIP mezzanine staffed by its own PGA-certified golf pro.
Given the goals of the facility's clientele, Gym Source recommended—and ultimately sourced and installed—a mix of Cybex embedded-screen cardio equipment, Eagle strength training equipment, and True commercial-grade ellipticals. The Gym Source team designed the space to maximize flow and ensure that every square foot was optimized.
"We are thrilled to be part of Golf & Body NYC's exciting new venture," said Richard Miller, CEO of Gym Source. "This is without a doubt the most comprehensive facility for total golf fitness, and we are delighted that Gym Source could contribute to the completion of Michael and Steve's grand vision."
To learn more about innovative commercial fitness solutions like the one Gym Source provided to Golf & Body NYC, call (800) GYM-SOURCE or visit http://www.GymSource.com.
ABOUT GYM SOURCE
Gym Source, headquartered in New York, NY, is America's largest distributor of residential and commercial fitness equipment—and an undisputed leader in fitness expertise. With 30 stores in 13 states, and more than 200,000 customers in 47 countries, Gym Source maintains its reputation by consistently providing the best customer service and selling only the best equipment. The in-house Gym Source team of fitness experts and service personnel can design, deliver, install and service the fitness needs of any facility. To learn more about how the Gym Source commercial team can provide solutions for your fitness facility, call (800) GYM-SOURCE or visit us at http://www.GymSource.com