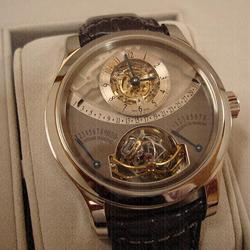 The watch is like a work of art, as it is one of only 75 in the world
New York, NY (PRWEB) June 1, 2009
A collector's watch is on special at SoKoBe.com for the next 15 days.
From now until June 16, SoKoBe.com is selling a Gyrotourbillon 1 watch for $340,000.
"The watch is like a work of art, as it is one of only 75 in the world," said Rudi Merom, online director for SoKoBe.com.
The Gyrotourbillon 1 watch is new, boxed and includes all the original manuals and paperwork. The wristwatch is platinum and rhodium plated with black numerals. Its engine is a Jaeger-LeCoultre JLC 177 with 679 parts, 117 jewels and two barrels with a sapphire base and cover. It is also scratch resistant.
Functions on the Gyrotourbillon watch include time, a perpetual calendar, leap-year indication, power reserve and instant date display.
"Anyone who buys this watch from SoKoBe.com is easily saving themselves $60,000," Merom said.
A new Gyrotourbillon 1 watch is typically sold for more than $400,000, according to SoKoBe.com. The world's leading watch auctioneer, Antiquorum, recently sold a used Gyrotourbillon watch for approximately $312,805. SoKoBe.com says it is offering a great deal on the Jaeger-LeCoultre watch, but the offer only lasts two more weeks.
More information on this watch is available at SoKoBe's Gyrotourbillon 1 page.
SoKoBe.com is a high-end jewelry company. It offers a wide range of cuts and settings for rings, earrings, watches, necklaces and pendants. For more information, visit SoKoBe.com. Find more daily updates at twitter.com/SoKoBejewelry
###