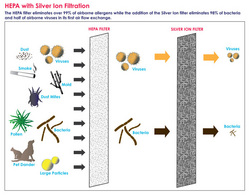 We felt the need to respond to the H1N1 flu pandemic by creating the new Silver Ion HEPA filter that will provide people with the cleanest air possible in their home or office at a price they can afford
Austin, TX (PRWEB) August 17, 2009
Alen Corp., a leading manufacturer of indoor air quality products for home and office, announced today they will be launching a new Silver Ion HEPA Air Filter on September 15 for households and offices seeking to reduce airborne viruses that cause the flu. The new HEPA air filter is coated with silver, an eco-friendly and non toxic substance naturally occurring in nature that provides anti-bacterial, anti-fungal, and anti-viral protection. The Silver Ion HEPA filter is more affordable than other air sterilization methods and is extremely efficient when compared to ultra violet technology alone. The Silver Ion HEPA filter reduces up to 50% of airborne viruses that cause the flu after 24 hours of use - http://www.alencorp.com/silverion-flash/silverion-v2.html
"We felt the need to respond to the H1N1 flu pandemic by creating the new Silver Ion HEPA filter that will provide people with the cleanest air possible in their home or office at a price they can afford," said Peter Mann, CEO of Alen Corp. "The CDC is reporting that approximately 159 million people in the U.S. are at higher risk of complications from H1N1 this flu season, including:

pregnant women;
people who live with or care for children younger than 6 months of age;
healthcare and emergency services personnel;
persons between the ages of 6 months through 24 years of age;
and those ages 25 through 64 with chronic health problems or compromised immune systems.
"Viruses grow by taking over another living cell and reprogramming the nucleus to replicate the virus rather than the healthy cell. As part of this process, the cell reverts to a more primitive form that relies upon a primitive form of oxygen metabolizing enzyme as a chemical lung. Silver ions reduce the oxygen being brought into the harmful virus-producing cell and it dies by suffocation," concluded Mann.
Silver Ion HEPA filters will be available for all Alen Corp. air purifiers starting September 15 and they will range in price depending on size from $59 to $69. However, Alen Corp. is offering $10 off all sizes of the Silver Ion HEPA filter until November 15. As a special "Fall Flu Prevention" program, Alen Corp. is offering a free one-year supply giveaway of Silver Ion HEPA filters with the purchase of their best-selling T100 Desktop HEPA portable air purifier (MSRP $149.00) that includes an industry-leading lifetime warranty.
Visit http://www.alencorp.com/air_purification.asp for more information.
About Alen Corp.
Since 2005, Texas-based Alen Corp. has been a leading manufacturer of innovative indoor air quality products including home filters, HEPA air purifiers, portable air conditioners, dehumidifiers, and environmentally friendly odor elimination sprays.
Media Contact
Ria Romano, Partner
RPR Public Relations, Inc.
786.290.6413
###