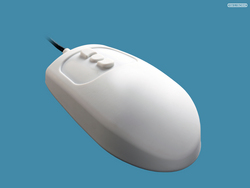 Microbes are not just a surface issue on keyboards and mice
Landover, MD (PRWEB) October 25, 2009 -
As the H1N1 Flu (Swine Flu) Pandemic continues to spread, Man & Machine, Inc., the leading manufacturer of hygienic, waterproof keyboards and mice, is urging the public not to overlook microbes and viruses that live and spread from dirty keyboards and mice. Keyboards at offices, schools, libraries and call centers are of particular concern in the spread of the flu and other infectious diseases. The Center for Disease Control recommends the cleaning of keyboards since viruses can live on hard objects for up to 8 hours.
"Microbes are not just a surface issue on keyboards and mice," said Clifton Broumand, CEO, Man & Machine, Inc. "With a typical keyboard and mouse, germs can hide around and under the keys and between the seams. This is why hospitals, laboratories, schools and call centers worldwide have been using our Mighty Mouse® & Really Cool® keyboards for years. Both products are hermetically sealed, waterproof and can be cleaned with chemical disinfectants. I am particularly alarmed when people share keyboards and don't or can't properly clean and disinfect them between users," concludes Broumand.
The Mighty Mouse® and Really Cool® keyboard is dishwasher safe* and naturally antimicrobial. It is available in hygienic white and black.

When used with optional USB cover.
Company Background
Man & Machine, Inc. is an international provider of leading edge computer accessories focusing on medical, governmental, industrial and general office environments. Products include waterproof keyboards and mice, mobile keyboards for the RIM Blackberry, LCD privacy monitors for HIPAA compliance and financial security, and customized products to meet client's unique applications. The company was founded in 1982 outside of Washington, DC with satellite offices in New York, Tennessee, Missouri, The Netherlands and China. Man & Machine, Inc. adheres to a strict environmental code for the sustainability and protection of our environment and is a member of Association for Professionals in Infection Control (APIC). Please visit Man & Machine
###