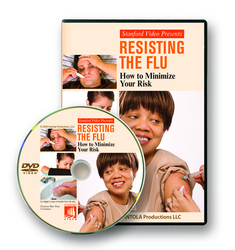 Mill Valley, California (PRWEB) October 29, 2009
Kantola Productions LLC and Stanford Video have released "Resisting the Flu: How to Minimize Your Risk" for the 2009-2010 flu season. It is the latest in Kantola's library of over 120 training programs.
Addressing both seasonal flu and the H1N1 (swine flu) virus, "Resisting the Flu" gives organizations a proactive, commonsense training approach to keeping people healthy this flu season.
The documentary-style video is narrated by Dr. Eric A. Weiss, Medical Director of Disaster Planning and Associate Professor, Stanford University School of Medicine. Viewers will learn:

What the flu virus is, its common symptoms and how it is spread
The unique risks of the H1N1 virus and the value of a flu shot
Do's and Don'ts for keeping healthy and reducing flu's spread
How to take care of sick family members in ways that protect the caregiver
The difference between typical symptoms and those requiring immediate medical help.
Preview three short "Resisting the Flu" video clips at Kantola Productions. Streaming licenses available.
Kantola Productions has been producing dramatic-format training videos on management, customer service, harassment and diversity, communication, human resources, health and safety, and computer training since 1985. It also partners with Stanford University to produces its Stanford Video Health and Stress Management programs, as well as its Executive Briefings, monthly video lectures by industry and academic leaders on business management.
###