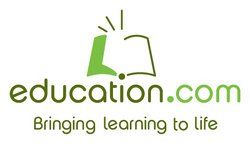 Parents are appropriately concerned about their children's and family's safety as we hear more and more about the possibility of a widespread H1N1 flu outbreak across the country this year
Redwood City, CA (Vocus) September 12, 2009
A new survey conducted by Education.com, a leading web destination for parents of school-aged children highlights findings about parents' thoughts about future school closings for H1N1 outbreaks, their feelings about a possible H1N1 flu vaccine, their opinions about how schools handled last year's H1N1 Flu outbreak, and their understanding of the H1N1 Flu. In evaluating the survey results Education.com found:
There is a strong indication that if schools do not close in the event of an H1N1 flu outbreak, parents may take it upon themselves to keep their healthy kids home. When asked what they would do if there were three confirmed cases of H1N1 flu at their child's school and it remained open, 29% of parents said it was "highly likely" that they would keep their kids home from school for one or more days with an additional 23% indicating it was "somewhat likely" that they would keep their kids home.
As schools and school districts consider policies around possible H1N1 flu school closings this year, parents have mixed opinions about when and if schools should close. Twenty-four percent of parents indicated a belief that schools should temporarily close if there is even a single confirmed case of H1N1 flu among the student population. Forty-one percent think schools should close if two to ten cases are reported and 19% advocate closing once more than ten cases have been confirmed. Fifteen percent of parents believe schools should not close because of the H1N1 flu regardless of how many confirmed cases are reported.
Many parents are undecided about whether or not they'll have their children vaccinated when and if an approved H1N1 vaccine becomes available. While 39% of parents indicated they would "definitely" have their children vaccinated, 53% remain undecided. Seven percent of parents say they "probably" or "definitely" will not give their child the H1N1 vaccine.
Safety seems to be top-of-mind for parents who are not definite about giving their children the vaccine with 61% noting "safety of the immunization" as a concern. Almost half (48%) say they're concerned about how effective the vaccine will be and a third (32%) are concerned their child could get the flu from the immunization. Seventeen percent listed the cost of the vaccination as a concern.
Parents gave schools a passing grade for their management of last year's H1N1 flu outbreak: More than half of parents interviewed (57%) indicated overall satisfaction with how their children's schools managed H1N1 flu / Swine flu during the last school year. Seventy percent of parents gave their schools a "satisfactory" or better rating for communication about the H1N1 flu and the same percentage gave a "satisfactory" or better rating on the measures their schools took to help prevent the spread of the H1N1 flu. While most parents indicated overall satisfaction, only16% said their school did an "excellent" job taking measures to prevent the spread of the H1N1 virus and only 17% gave that highest rating for how schools communicated with parents about H1N1.
"Parents are appropriately concerned about their children's and family's safety as we hear more and more about the possibility of a widespread H1N1 flu outbreak across the country this year," says Education.com CEO Ronald Fortune. "Most schools are closely following CDC recommendations to be sure they are doing everything they can to minimize the risks of the H1N1 flu to students and staff. The key is for principals and superintendents to make sure that they are keeping parents tightly in the loop about these efforts. Parents need to know through clear and frequent communication exactly what the schools are doing to help prevent the spread of the virus and what parents can do at home to help. There's no reason every school in our country shouldn't get an A+ from parents for their management of H1N1 this year."
Parents are doing the right things to manage H1N1 risks, but need more information: Education.com's survey showed that parents lack confidence in terms of their understanding of the H1N1 flu. Less than half reported knowing the recommended ways to avoid Swine flu, knowing the signs and symptoms of Swine flu, or knowing the best ways to respond if someone in their family gets Swine flu (45%, 39% and 44% respectively) - an indication that more parent education is in order.
However, when it comes to families' behavior around H1N1 flu safety, the news is encouraging. The majority of parents reported engaging in many behaviors the Centers for Disease Control says are most effective in helping prevent the spread of the H1N1 flu. Sixty-nine percent of parents indicated that during last year's H1N1 flu outbreak their families engaged in frequent hand washing and the use of hand sanitizer. Fifty-six reported covering their noses or mouths when sneezing or coughing and 51% say they avoided contact with sick people. Most parents (67%) said they'll do the same things this year to try to avoid the flu while almost a third (31%) indicated that they will take more preventive measures this year than last.
The Education.com H1N1 flu (Swine flu) survey was conducted August 14-18, 2009, with online surveys of 411 parents with one or more school-aged children living in the home.
Parents, teachers, and school administrators can visit Education.com's H1N1 Information Center for the most accurate and up to date information available about Swine flu prevention and treatment, recommended action plans, and state-specific planning and response news.
About Education.com: From kindergarten readiness to college prep, Education.com is the leading destination for involved parents. More than a million parents a month come to Education.com to get the information they need to support their children's unique educational and developmental needs, and to find ideas for how to make learning more fun. The company has teamed up with leading universities, nonprofits and research organizations to offer highly credible parenting, developmental, and educational information. The site also offers worksheets and activities, community resources, access to best-of-breed educational services and SchoolFinder - a tool that gives parents comprehensive data on the nation's 125,000 public, private and charter schools. Education.com was founded in 2006 and is headquartered in Redwood City, CA. The company is backed by leading venture capital firms: Azure Capital Partners, TeleSoft Partners and California Technology Ventures. For more information, please visit http://www.education.com.
Media Contact:
Kat Eden
Education.com
650.366.3380 X2218
# # #