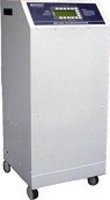 How do we safeguard the student population and staff in the face of a swine flu pandemic?
Suwanee, Georgia (PRWEB) August 28, 2009
As the nation's college and university students return to fall semester for the 2009-2010 academic year, administration officials ask, "How do we safeguard the student population and staff in the face of a swine flu pandemic?"
The Centers for Disease Control and Prevention (CDC) has issued guidance for colleges and universities designed to decrease exposure to H1N1 swine flu and regular seasonal flu. The CDC recommends 'self-isolation'--those with flu-like illness should stay away from classes and limit interactions with other people.
However, by the time symptoms appear, the spread of H1N1 swine flu may already be a full-blown influenza outbreak infecting students, faculty and staff. Student health clinics or infirmaries could easily become overwhelmed by those seeking medical care. Closing the school and forcing students to return home is not a viable option as sick and infected students would have to travel and risk further spread of the H1N1 virus.
HEPA-CARE Medical-Grade, Air Purification Solutions for Colleges and Universities Capture Airborne Pathogens to Help Control the Spread of H1N1
Used today in more than 5,000 hospitals and clinics worldwide, Abatement Technologies portable HEPA-CARE Air Purification Systems can help colleges and universities filter potentially deadly, infectious airborne pathogens from the air and to quickly facilitate negative pressure or positive pressure isolation zones within campus buildings. HEPA-CARE Air Purification Systems operate in one of three protective modes to help reduce and contain the spread of H1N1 swine flu:
1) Negative Pressure: Helps isolate ill students & staff
2) Positive Pressure: Helps prevent the virus from entering key employee/student areas
3) Recirculation: Helps reduce the viral count in communal areas
According to independent testing, the high-efficiency pharmaceutical grade HEPA-CARE HEPA filters capture more than 99.99% of the 0.3-micron size (0.000012-inch) particles that pass through them, making the systems highly effective in all three protective modes of operation.
Portable HEPA-CARE models are ideal for campus settings because they provide the fastest and most economical way to set-up isolation areas during emergencies and help university and college officials plan for an H1N1 swine flu pandemic. Simply roll them in, turn them on and begin cleansing the air immediately. HEPA-CARE units can be placed throughout the campus in health clinics, classrooms and offices to run continuously 24/7. For more permanent installations, ceiling-mounted HEPA-CARE models install into the ceiling grid and are completely out of the way.
Germicidal UV-C Disinfection Technology to Irradiate and Kill Infectious Pathogens
Germicidal UV (UVGI) technology has been widely used in health care facilities for more than 50 years to irradiate, deactivate and kill harmful infectious pathogens suspended in the air. This powerful technology is an available option with HEPA-CARE Air Purification Devices to add another layer of protection against potential student and staff exposure to the infectious H1N1 swine flu pathogen.
Mass Student Isolation in Large Common Areas
Abatement Technologies offers higher capacity HEPA-filtered devices called HEPA-AIRE Air Purification Scrubbers. HEPA-AIRE air purifiers are capable of converting large areas, such as an entire dormitory, a gymnasium or a cafeteria, into short-term, temporary housing for greater numbers of students and staff.
Temporary Anterooms Separate Non-Infected Areas
Abatement Technologies also offers two alternative solutions for creating a temporary transition space, or anteroom, as a buffer area between common spaces and isolation areas: the ANTE UP® Inflatable Emergency Anteroom and the AIRE GUARDIAN® AR Modular Anteroom. Both can be negatively or positively pressurized as needed to control the direction of airflow and further protect non-infected students and staff from exposure to pathogens whenever medical staff, equipment or supplies enter or exit the isolation zone.
About Abatement Technologies
For more than 20 years Abatement Technologies has led the way with innovative, effective and economical infection control solutions for hospitals and other medical facilities around the world. Contact Abatement Technologies for additional information on their state-of-the-art Air Purification Systems for air creating CDC-compliant air purification solutions in colleges and universities, businesses and other facilities in the event of a healthcare emergency such as an H1N1 swine flu outbreak.
Contact:
Dave Willyard, Vice President
Abatement Technologies, Inc.
605 Satellite Blvd.
Suite 300
Suwanee, Georgia 30024
678-889-4200
http://www.abatement.com/healthcare.htm
###