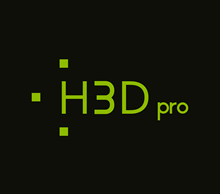 H3Dpro - A Human Touch To Technology
Dover, DE (PRWEB) May 18, 2013
H3Dpro provides HD, full-body or face 3D scanning that offers clients the where-with-all to produce a miniature figurine or model of themselves. "The idea is to travel around the United States and Canada and visit various large donors to the project and scan their images with our synchronized 50x HD cameras. With the image they will be able to replicate themselves in a three dimensional figurine." said Philippe Letellier. "We think it's a great keepsake of their support to the crowdfunding project launch."
The startup company's scanning process will collect every tiny detail of the supporter's face, eyes, hair, body shape, skin color, and any other distinguishing features. It will then clean up the original data and will convert it into a 3D model with the use of the specially designed 3D software. "We've tested the process very well and it's definitely worth the investment to the participant." said Fred Paulus. After converting the 3D model, the pictures will be sent into a virtual storage cloud where it can be converted into data that will then become a 3D printed figurine.
But how will the startup company's founders get to the lucky crowdfunders? The two innovative partners will travel in a mobile studio through Canada and America where they will perform the scans on people who have pre-ordered their services. After the crowdfunding has been successfully held, a roadmap displaying all the stops will be given to each project supporter. This will be executed in four phases. The first phase will include Miami to Los Angeles, followed by the East Coast, then on to Canada, and finally the West Coast.
The Indiegogo crowdfunding project perks, depending on the donation, include T-shirts, coupons, USB drives or baseball caps with the H3Dpro, LLC logo. Letellier and Paulus hope pro stars, sports clubs, parents, young couples, retired persons, and crowdfunder's pets join them on their quest for revolutionary crowdfunding support.
For more information about the crowdfunding campaign or H3Dpro in general visit H3Dpro.com. To contact via email write phil(at)h3dpro(dot)com. H3Dpro, LLC is located at 3500 South Dupont Highway in Dover, Delaware 19901.