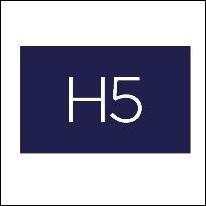 The financial services industry is facing formidable challenges which have placed organizations under even greater scrutiny for corporate compliance and legal information risk management
New York, NY (Vocus) February 23, 2009
H5, the leading provider of automated information retrieval, search, and analytic services for the legal industry, today announced that it has named Michael J. Halloran and Neal L. Wolkoff as the newest additions to its Financial Services Advisory Board.
"The financial services industry is facing formidable challenges which have placed organizations under even greater scrutiny for corporate compliance and legal information risk management," said Nicolas Economou, H5's CEO. "H5 is engaged in helping financial services institutions respond to these challenges and is actively involved in the public policy dialogue surrounding these issues. We are honored to benefit from the deep industry experience that both Neal and Michael contribute. They will provide valuable insight and guidance as we continue to expand and improve our financial services offerings."
Michael J. Halloran is the former Counselor to the Chairman and Deputy Chief of Staff at the United States Securities and Exchange Commission. While at the SEC, he advised the chairman on the entirety of the Commission's program to promote investor protection, healthy markets, and capital formation. Before joining the SEC, Mr. Halloran was at a major law firm for 32 years, most recently as senior partner of the firm's Corporate & Securities Law and Financial Institutions practices. From 1990 to 1996 he was Group Executive Vice President and General Counsel for BankAmerica Corporation, serving as the company's chief worldwide legal officer.
Neal L. Wolkoff is Chief Executive Officer of ELX Electronic Liquidity Exchange, an electronic futures exchange formed by 12 financial institutions. Previously, Mr. Wolkoff served as Chairman and CEO of the American Stock Exchange and before that as Chief Operating Officer and Executive Vice President of the New York Mercantile Exchange (NYMEX). Mr. Wolkoff served in several senior-level officer positions during his 20-year tenure at NYMEX, which included responsibility for all major functions of the world's largest energy and precious metals exchange.
Other members of H5's Financial Services Advisory Board are Paul J. Polking, Esq., former Executive Vice President, General Counsel, and member of the Management Operating Committee for Bank of America Corporation; Stanley Stroup, Esq., former General Counsel and Executive Vice President of Wells Fargo & Company; Edward Kangas, former Global Chairman and CEO of Deloitte; and John C. Dean, former Chairman and CEO of Silicon Valley Bancshares and Silicon Valley Bank.
About H5
H5 is an information retrieval firm that helps law firms and corporations search, assess, and manage electronically stored information. Through a full range of advisory and implementation services, H5 applies specialized expertise to find the information clients need for litigation and investigations, compliance, and litigation readiness. Our approach--which combines advanced technologies with expertise in law, linguistics, computer science, and statistics--consistently reduces clients' information management costs while minimizing their risk. For more information, visit http://www.h5.com.
# # #