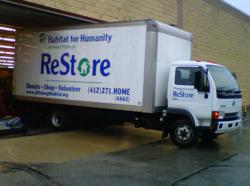 The major difference between a Habitat ReStore and other nonprofits is our mission to serve our program families and increase our capacity to serve them.
Pittsburgh, PA (PRWEB) July 26, 2011
When Habitat for Humanity of Greater Pittsburgh's executive director shouted, "All hands on deck!" the small, but capable staff asked, "Which deck?"
Habitat for Humanity of Greater Pittsburgh celebrates 25 years of service to low-income families in Allegheny County this week. Since its incorporation as a nonprofit on July 28, 1986, Habitat has built or renovated 70 homes for low-income families in need of affordable housing.
Deck 1:
The week-long celebration is highlighted by a private reception at the new 25,000 square foot ReStore, located at 1635-B South Braddock Avenue in Edgewood Towne Centre shopping center. On Thursday, July 28 from 5:00 p.m. through 7:00 p.m., charter donors and the volunteers who established the store through financial support, material donations, and hands-on labor will tour the store and shop for merchandise prior to the public opening. Local media is encouraged to attend for this special celebration. The store will be open to the public starting Friday, July 29th from 10:00 a.m. until 3:00 p.m. Regular store hours will be Wednesday, Friday, and Saturday from 10:00 a.m. until 3:00 p.m. The ReStore is conveniently located at Exit 77, just off I-376 East.
A feature at the store is a façade replica of a Habitat house which recognizes the donors who have made the store possible. Life-size photos of local Habitat families are looking out the windows of the house, greeting shoppers as they enter the store, emphasizing Habitat's mission.
Habitat's ReStore resale outlets, over 700 nationwide, sell reusable and surplus building materials to the public. The stores also feature home improvement goods such as furniture, home accessories, hardware, and appliances. ReStore accepts donated goods to sell to the public at a fraction of the retail price. Proceeds aid local Habitat affiliates fund the construction of affordable Habitat homes for those with lower incomes within their communities. Habitat is requesting donations from local stores, contractors, and the general public to sell at their ReStore.
"The major difference between a Habitat ReStore and other nonprofits is our mission to serve our program families and increase our capacity to serve them," said Glenn Bertha, Habitat's store manager. "When donated items come into our loading dock, we'll determine if they can be used in a program family's home, reducing their cost of construction, or we move the item to our retail floor, selling it to increase Habitat's capacity to build or rehab more homes." The store is projected to increase Habitat's house production by a minimum of 3 – 4 additional homes per year.
As part of the ReStore celebration, Habitat homeowner, Bette Lloyd of the Hill District will make her final payment on her Habitat mortgage, obtaining full ownership of her house under the Habitat no-interest mortgage payment. Lloyd represents the many Habitat homeowners who work hard to pay their mortgages under the Habitat program. When asked how she feels about paying off her mortgage, Bette said, "This is great; it's one of many blessings in my life. God has blessed me!" Bette's rehabbed house was the first one that Habitat volunteers built within the City of Pittsburgh in 1997. At the ReStore reception, Bette will symbolically shred copies of her mortgage and promissory note to Habitat as part of the celebration ceremony.
Another Habitat program participant will be on hand with her children to help cut the 25 year anniversary cake. Roxanne Cole, a mother of five who recently received her Master's degree in social work from the University of Pittsburgh will attend to pick out items for her new home under construction in partnership with the URA in the Bloomfield-Garfield neighborhood of Pittsburgh. Roxanne's children will hang the American flag and lead the group in the pledge of allegiance, focusing on homeownership as part of their American dream.
Deck 2:
On Saturday, July 30, Habitat joins forces with the Pittsburgh office of Travelers' Insurance as volunteers on a house under construction at 317 North Evaline Street in Bloomfield-Garfield. Habitat's Women Build© program is not about excluding men, but about empowering women to feel comfortable on a construction site environment. Volunteers will work side-by-side with program participant Roxanne Cole as they work together on carpentry trim, painting, and cabinet installation.
Lowe's is a major sponsor and underwriter of Women Build and has generously supported our efforts for many years. In addition to Lowe's, major funding has been provided by the Urban Redevelopment Authority of Pittsburgh, EQT, and Travelers' Insurance. The 4-bedroom house is scheduled for completion by September 2011.
Deck 3:
To better serve program families, Habitat for Humanity of Greater Pittsburgh is relocating the administrative offices from a remote location in Duquesne PA to a more publicly-accessible office in Braddock Hills Shopping Center, one parkway exit away from the ReStore. The space will feature a meeting/training facility for program families, fenced-in storage space for construction materials, and offices and work stations for staff and AmeriCorps/VISTA volunteers. Furniture for the new facility has been donated by Bayer Corporation. Volunteers are working with staff this week to pack, transport, and set up the new office in time for business on Monday, August 1, 2011.
Deck 4:
After a successful 11th annual event in South Park on July 16, our final race of the 2011 Kids Triathlon Series is scheduled for August 6 at North Park Pool. Over 180 kids are already registered for the event where youth athletes ages 7-15 swim, bike, and run to raise awareness for affordable housing. Since its inception eleven years ago, the two-event series has raised in excess of $725,000 for affordable housing and helps instill the value of community service with the participants. "Each year, the Kids Triathlon Series has grown in size, excitement, and funding for Habitat for Humanity of Greater Pittsburgh." said Maggie Withrow, Habitat's executive director. "Over the years, more than 3,800 kids have participated, 38 homes housing 160 persons have been built, and thousands of volunteers have participated in an event that has never been rained out!" All race sponsorship dollars go directly to Habitat for Humanity. Funds will help construct homes for people in need of decent, affordable housing. Youth athletes can register to participate at http://www.pittsburghhabitat.org.
Habitat is not a giveaway program. Each home is sponsored in advance by donors throughout our community. A qualifying partner family is then chosen dedicating 350 sweat equity hours to the construction of their own home. The family then signs an interest-free mortgage, repaying Habitat for Humanity of Greater Pittsburgh for the cost of their home. Those funds then go toward building more affordable homes throughout Greater Pittsburgh.
For more information or to arrange an interview with a program family, contact Executive Director, Maggie Withrow at 412-443-1302 / mwithrow(at)pittsburghhabitat(dot)org.
###