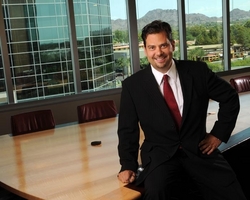 "People don't come to us to make them rich; they come to us help keep them rich."
Phoenix, AZ (PRWEB) March 30, 2010
With over fifteen years experience working with high-level clients (successful entrepreneurs, real estate developers and well known entertainers, to name a few), Jeff Christenson knows a thing or two about managing substantial wealth. As the President and Founder of Christenson Wealth Management LLC, a comprehensive, private wealth management firm dealing exclusively with high net-worth clients, Jeff has an unparalleled reputation for assisting individuals and families in achieving their financial goals.
Jeff was recently recognized for his considerable achievements with the Advisor Achievement Award from Multi Financial Securities Corporation (Multi-Financial). This special award was given to Christenson for increasing his business over the last 12 months despite the challenges in the economy.
"This is a fitting honor for Jeff, who continues to exemplify what it means to be a successful advisor and a trusted guide for his clients," said Multi-Financial President and CEO Brett Harrison. "It was a challenging 12 months, but his efforts produced outstanding results."
This is the second honor for Christenson in the last few months, as he was also recently listed among WORTH Magazine's national list of "Leading Wealth and Legal Advisors". Christenson contributed multiple full-page editorial features to WORTH as part of the program, which educates the most affluent readers in the United Sates on diverse, sophisticated wealth strategies.
Jeff and his highly accredited team realize that these clients have unique needs, and are solidly committed to meeting – and exceeding – their objectives. Investment portfolios are customized based on the individual situation of each client. These clients benefit from a variety of investment strategies which can help maximize their return and which can help to keep their money in a safe place.
"People don't come to us to make them rich; they come to us help keep them rich."
When someone has serious money, they need a serious money manager. If they're going to put their trust – and their financial assets – in someone's hands, capability is paramount. Smart, sound strategies and a holistic approach to wealth have helped Christenson's clients keep a healthy bottom line, despite disaster in the economy.
"It is said that 80% of money managers can't beat the S&P 500, and they're probably right. On the other hand, that means 20% do, and those managers are where we focus our attention and efforts, looking for ways to shepherd wealth with partners who have a proven track record of performance and integrity. My clients demand the best results with the lowest risk, and that's what I look for every day."
Christenson also provides his clients with special access to a unique team of top-tier professionals with national reputations to help his clients preserve their wealth in related and often overlooked areas including Asset Protection, estate planning and life insurance needs, executive compensation and business succession planning and many other areas of concern to clients in his demographic. "I can't be an expert at everything, but I can assemble a team of experts, and that's been part of our success. Investment performance is for naught if my clients lose money to a lawsuit, estate taxes or other sources of spoilage. We try to make sure they have all the expert resources they need", says Christenson, who also regularly partners with other advisors across the country to help them bring the same level of service and these innovative strategies to their own clients.
Christenson is a resident of Paradise Valley, Arizona with his "unbelievably supportive" wife and their two children, a four-year-old daughter and a one-year-old son. He also serves on the Board of Directors for national child abuse prevention and treatment group Child Help USA, a cause he describes as "one of the greatest joys" of his life. It's an honor which came through his professional career – just another reason to love the business. "My clients are the greatest people in the world," Jeff says, "Literally."
For more information contact Christenson Wealth Management, LLC at:
2575 East Camelback Road, Suite 700, Phoenix, AZ 85016 call: 602.808.5580
or email: Meghan(at)habitsofwealth(dot)com
Securities offered through Multi-Financial Securities Corporation, Member FINRA/SIPC. Christenson Wealth
Management and Multi-Financial Securities Corporation are separate companies. Please consult with a qualified tax advisor prior to implementing any tax related strategy.
###