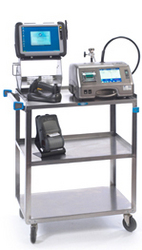 MET ONE CWS integrates the data acquisition capabilities of MODA-EM with the industry-leading MET ONE 3400 series of portable air particle counters by Hach
Loveland, CO and Wayne, PA (Vocus) September 9, 2009
Environmental monitoring (EM) is the most labor-intensive aspect of air particle monitoring programs--generating the most paper, creating double data entries, and yielding unnecessary costs associated with paper-based methods. In a live webinar Tuesday, September 22, 2009 at 11 AM ET, Hach Company, the leader in particle monitoring solutions for regulatory compliance, will introduce its new MET ONE CWS™ (compliance workflow system ) in partnership with MODA Technology Partners' MODA-EM™, a paperless QC Micro solution that leverages mobile computing technology and advanced visualization tools.
In the 60-minute webinar, Scott Hjelmervik, Systems Director at Hach, and Bob Toal, Vice President at MODA, will present how Quality Assurance/Quality Control personnel and facilities and control engineers will be able to fully automate their clean room certification and EM regimens for air particulate testing using this new solution.
"MET ONE CWS integrates the data acquisition capabilities of MODA-EM with the industry-leading MET ONE 3400 series of portable air particle counters by Hach," Scott Hjermervik explains. "This innovative partnership provides a paperless solution for air monitoring of cleanroom environments with new levels of efficiency and accuracy."
Registration for the webinar is at: http://www.hach.com/lifesciences.
About Hach Company
For over 60 years, Hach Company has been developing innovative solutions used to test the quality of water, other aqueous solutions and air. Manufactured and distributed worldwide, Hach systems are designed to simplify analysis by offering sophisticated on-line instrumentation, accurate portable laboratory equipment, high-quality prepared reagents, complete easy-to-follow methods, and life-time technical support. Hach is a wholly owned subsidiary of Danaher Corporation, http://www.danaher.com, a Fortune 500 leader.
About MODA
More science. Less paper. MODA Technology Partners provides a mobile data acquisition platform that enables quality assurance and quality control organizations to automate their regulated manufacturing processes, including pharmaceuticals and consumer products. MODA's flagship software, MODA-EM™, is a paperless QC Micro solution that leverages mobile computing technology and advanced visualization tools for increased operational efficiency, improved quality, and reduced costs. MODA enables companies to advance their Green Initiatives by reducing and eventually eliminating the need for paper-based, labor-intensive environment monitoring programs. MODA is headquartered in Wayne, Pennsylvania with office locations throughout North America and Europe.
Media Contacts:
Debbie Lakatos
Hach Company
970-663-1377 x2996
dlakatos (at) hachultra (dot) com
Jim Tagliaferri
TME Communications for MODA
610-420-7401
jimt (at) tmecom (dot) com
###