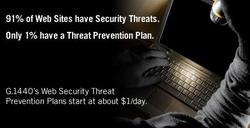 Every organization with a website should be using a service like the one we're providing through G.1440. It's astonishing how many people wrongly assume they're protected and leave themselves open to serious business consequences
Baltimore, MD (PRWEB) September 24, 2009
The Maryland Association of Certified Public Accountants is partnering with G.1440 to deliver a web security solution that fills the gaps left by current standards such as firewalls and anti-virus.
"Every organization with a website should be using a service like the one we're providing through G.1440. It's astonishing how many people wrongly assume they're protected and leave themselves open to serious business consequences," said MACPA President Tom Hood.
According to G.1440's Director of Systems & Technology, Chris Howe, "The latest reports show that more than 90% of websites have critical security vulnerabilities," noting also that most organizations don't know that they're at risk. "Too many companies believe that their firewall, hosting company or even anti-virus software will protect them, but these vulnerabilities exist in the site code that is displayed on the web, and are not protected by network security measures."
Organizations not affiliated with the MACPA can purchase security directly from G.1440 for as little as $400 for a full year of protection at http://www.g1440.com/web-security.aspx.
"We're excited to be able to provide such a needed solution," said Hood. "One of our central goals is to increase our members' value to their clients and employers, and by offering this service we're giving CPA's across the state a tool to address a critical business risk that's currently being overlooked."
The partnership comes days after the US Senate introduced the Cyber Security Act of 2009 which would give the President authority to disconnect private-sector computers and websites from the Internet.
"Increasingly these are stealth attacks that infect sites and wait until a coordinated attack is launched using systems from everyone infected," said G.1440 President Larry Fiorino. "The government is reacting so strongly because the private sector can no longer ignore security and leave public and other private sites at risk."
This is why a central component of G.1440's partnership with the MACPA will be educating local organizations about the severity of unaddressed web application security risks.
Hacks are no longer carried out only by experts targeting an organization. Web hacks, which commonly include Cross Site Scripting and SQL Injection, are increasingly automated attacks, and like viruses, there are new threats constantly being created.
Several web attacks have made headlines recently, like the hacking of the website for John's Hopkins Applied Physics Lab. Recent headlines also included attacks on South Korean and American government websites which involved thousands of legitimate websites that had been compromised and used unknowingly in the attack.
About G.1440
For over a decade, G.1440 has been a leader in IT Staffing and Web Development. With the growing risks presented by web hacks, G.1440 is relying on its experience and the latest web application security scanner tools to provide a cutting edge hacker prevention service that helps to identify and correct web security threats even for web software that it didn't create.
###