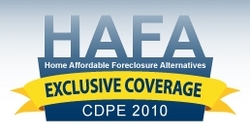 While it's not a silver bullet, we're pleased by this program because it has the potential to help a lot of homeowners.
Austin, TX (Vocus) April 7, 2010
The Distressed Property Institute, LLC broadcast its live real estate industry alert, "HAFA Decoded," detailing the new government foreclosure alternatives program and providing crucial information on processes, timelines, forms, requirements, and frequently asked questions. Coming just one day after the official launch of the Home Affordable Foreclosure Alternatives Program, "HAFA Decoded" represented months of research and analysis by the Institute.
"Last year, I participated in the Federal Housing Finance Agency's 'Short Sale and Deed-in-Lieu Roundtable,' where details of the HAFA program were just beginning to be discussed," Alex Charfen, co-founder and CEO of the Institute said. "While it's not a silver bullet, we're pleased by this program because it has the potential to help a lot of homeowners."
The HAFA program will aid homeowners in avoiding foreclosure by providing financial incentives to lenders and homeowners, and enforcing timelines on every step of the short sale or deed-in-lieu of foreclosure process.
Charfen hosted the broadcast, lending his expertise in short sales and the distressed property market to help explain the HAFA program. He opened the broadcast with guest Danielle Kutch, homeownership policy analyst with the U.S. Treasury. Kutch provided and overview of program goals and criteria, and answered questions from viewers.
"Homeowners need to work with a real estate professional to assist them through a HAFA short sale," Chafen said. "It was critical that we make 'HAFA Decoded' free in order to educate as many agents as possible, because there are millions of homeowners who need our help."
As part of the Institute's ongoing goal to provide the best possible information and educational material in the industry, "HAFA Decoded" was offered for free to anyone interested. A recording of the broadcast can be found at: http://www.cdpe.com/webinar/hafa/100406.html.
About the Distressed Property Institute, LLC
The Distressed Property Institute trains real estate professionals to engage with and assist homeowners facing hardships. The Institute has developed a curriculum to provide the tools and knowledge to handle distressed properties, including short sales, deeds-in-lieu, mortgage modifications, forbearance, refinances, reinstatements and, if that fails, how to help homeowners through the foreclosure process. After completing a comprehensive on-site or online course, graduates are awarded the Certified Distressed Property Expert® Designation.
About the CDPE Designation?
The CDPE Designation provides real estate industry professionals with detailed information on how to engage with and assist homeowners in distress. The CDPE designation has been endorsed by RE/MAX International, Keller Williams Realty and other major U.S. brokerages, as well as industry icons such as: Brian Buffini, founder of Buffini & Company; Howard Brinton, founder of STAR POWER® Systems; Allen Chiang, Chairman of the Asian Real Estate Association of America (AREAA); Tino Diaz, Chairman and President of the National Association of Hispanic Real Estate Professionals (NAHREP); Dave Liniger, chairman and co-founder of RE/MAX; and Joe Stumpf, founder and national spokesperson of By Referral Only®.
For more information about The Distressed Property Institute and the CDPE Designation, visit http://www.cdpe.com.
Contact:
Adam Pedowitz
512.501.2588
##