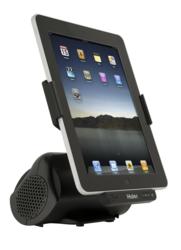 Haier docking systems offer more ways than ever to enjoy music and enhance the
audio experience of video and other digital content.
New York, NY (PRWEB) December 13, 2011
Haier's docking systems help get the most out of the iPad experience. Besides offering full use of the iPad while it's charging, they provide enhanced sound and offer multiple positions designed specifically for the way consumers want use their iPad. The auxiliary input connection also lets you charge Mp3 players of other sizes, eliminating the need for a mess of separate chargers. Haier Docking Systems are stylish, lightweight, and multi-use, making them the perfect accessories to boost the iPad experience to another level.
Flex
Flex has three basic positions, as well as adjustable angles for added comfort and convenience. Tilt the Flex upward to see the iPad clearly while standing or angle it down to view while seated. The swivel head turns to give you the option of portrait or landscape views. Read, browse the web, or view slideshows in portrait view, then switch over to landscape view when it's time to relax with movies and TV shows. Place Flex on a steeper downward angle for an ergonomic position that allows for typing comfortably on the touch screen keyboard like you would on a regular keyboard. The amplified, built-in speakers on its base make this dock great for playing music from your iPad at the office, at home, or anywhere.
Model number IPD-01
MSRP is $79.99
View XL
Haier's View XL docks an iPad firmly in portrait style to read, browse the web, and use Apps, or in landscape view to watch movies and TV shows. However, this slender iPad docking station's most outstanding feature is the vibrant sound created by its powerful 20 watt speakers. Four front speakers with two passive woofers create an immersive sound you wouldn't expect from a docking station. Blast music for everyone to enjoy, keep it low and subtle at work, or plug in headphones to listen to music or watch downloaded programs.
With View XL consumers also have the ability to connect your docking station to a TV, making it a great addition to your home theater. Access online shows and movies, even photo slideshows, through your iPad, and transmit them easily to a large screen. The included remote control lets you direct the action from the comfort of your couch, and the built-in Haier Audio App expands your use of the whole system with FM Tuner, Alarm Clock, Weather, and other special features. The thin base is space-saving and stores easily, plus View XL is small enough to take virtually anywhere.
Model number IPD-100
MSRP is $129.99
About Haier
Based in the landmark Haier Building in midtown Manhattan, Haier America is a division of the multinational Haier Group, the world's #1 major appliance brand as ranked by Euromonitor International 2010, and a global leader in consumer electronics. Haier employs more than 60,000 people around the world and distributes products in more than 160 countries and regions with global revenues reaching $20.7 billion in 2010. Haier is an Official Marketing Partner and the Official High Definition Television of the NBA and proud supporter of the National Parks Conservation Association. For more information, please visit http://www.haieramerica.com. You can also become a Fan of Haier America on http://www.facebook.com/Haieramerica or follow Haier America via Twitter @haieramerica.
###