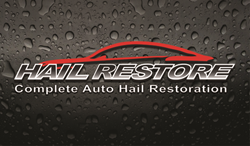 We have seen a lot of severe storms come through lately and we're trying to come up with any idea we can to help people around the Edmond area. One idea we came up with was complementary water damage prevention for eligible insurance claims
Oklahoma City, OK (PRWEB) June 09, 2015
Hail Restore, a locally owned and operated Smart Repair Center and an authority in the hail repair and paintless dent repair market, recently announced their plans to help Edmond, Oklahoma residents by offering free auto water damage prevention.
Hail Restore has been in business since 2007 and with all the severe storms that have passed through the Edmond area lately, it seems to be a smart and timely move for the Oklahoma City based company.
"We have seen a lot of severe storms come through lately and we're trying to come up with any idea we can to help people around the Edmond area. One idea we came up with was complementary water damage prevention for eligible insurance claims," explains Hail Restore owner James McElhany.
The idea was created to help customers who have had hail damage to their vehicle's windows. If a vehicle window has been shattered by hail, there becomes a potential for further issues with the interior of that vehicle if water comes through the window during post-damage storms.
"Our goal is to help as many people as possible. If this means that to earn a customer's business that we need to go to their house and professionally seal damaged vehicle windows, then that's exactly what we'll do," says James. "The program is simple. If the customer wants to use our company for hail restoration then we will send a professional to their house to prevent interior water damage at no cost to the customer."
Hail Restore has an A-Rating with the better business bureau and is going above and beyond to extend their reach across the metro.
Learn more about hail restore at: https://www.youtube.com/watch?v=rJpjebhPLgU
About Hail Restore:
Hail Restore is a locally owned and operated Smart Repair Center in Oklahoma City, OK. With an A-Rating by the Better Business Bureau, Hail Restore specializes in auto hail damage repair and paintless dent removal. To learn more visit: http://www.hail-restore.com