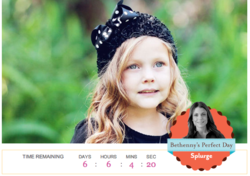 We work hard to remove the time consuming task of researching the hottest trends and fashionable patterns for our website members.
Jacksonville, FL (PRWEB) May 10, 2012
Plum District, Created for Moms by Moms, has just released its latest Plum Deal and this one has Bethenny Frankel's seal of approval. LoveMyBows.com has provided a unique money saving offer to get $10 worth of hair bows or hair bands for only $5. This special offer is designed to help loving mothers, fathers, aunts or grandmothers find the perfect gift for the little princess in their family. The bows and accessories that are offered by this new online retailer are all custom made using high quality ribbons, patterns and fabrics to give a lot of fashion for an affordable price.
http://www.LoveMyBows.com was started by 2 moms that grew tired of searching for the perfect bow to go with any hairstyle or wardrobe. Many of the bows and accessories that are sold in stores are the same from retailer to retailer. Finding a custom hair bow and matching accessories can be challenging for young ladies that put a lot of emphasis on fashion details. "Our own girls love to accessorize just as much as we do," said Jennifer Shedlin, Co-Founder of LoveMyBows.com. "We work hard to remove the time consuming task of researching the hottest trends and fashionable patterns for our website members," added Shedlin.
According to Google, over 200,000 web searches are completed for the keyword "hair bows" each month from around the U.S. Both men and women have the opportunity to join the LoveMyBows.com website to have custom bows shipped automatically each month. This new retailer has been closely involved with hair bows online for several years and has now decided to take its offerings national. The owners of LoveMyBows.com have partnered with http://www.marketersblackbook.com for marketing services.
"Our bows have a lot of style and offer ladies of any age something special," said Debbie Waters, Co-Founder of LoveMyBows.com. "We have bows named Wild Thang, Bright-Eyed Girl and Rocker Chick to suit all personalities," added Waters. The decorative nature of wearing hair bows often makes them an attractive accessory for use in weddings, family outings, holidays and school portraits. The custom hair bow industry is expected to continue expanding as more local hair bow clubs around the country are started. For retailers like LoveMyBows.com, adapting to the ever-changing fashion industry could be one of the ways to reach a wider demographic of impressionable young ladies.
About LoveMyBows.com
LoveMyBows.com is the hottest and newest online membership club and community for mini fashionistas of all ages. The founders are mothers, best friends, wives and professionals from the sleepy, coastal town of St. Johns, Florida. Making high quality hair bows and hair bands has quickly turned into a full-time business and this membership based website has quickly gained national attention. LoveMyBows.com offers free birthday bows to website members and a minimum of 2 unique bows shipped per month plus a 25 percent discount with a monthly website membership.