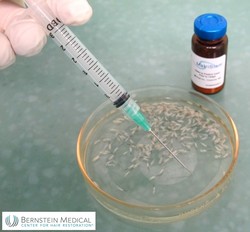 We are simultaneously pushing the boundaries of hair cloning methods and follicular unit transplantation.
New York, NY (PRWEB) March 15, 2011
Robert M. Bernstein, M.D., F.A.A.D., Clinical Professor of Dermatology at Columbia University in New York and founder of Bernstein Medical – Center for Hair Restoration, has been granted approval by the Western Institutional Review Board (WIRB) to study four different applications of the ACell MatriStem™ extracellular matrix (ECM) in hair restoration. Two of the studies include its use in a type of hair cloning, called hair multiplication, where plucked hairs and transected follicular units are induced to generate new hair-producing follicles. The other two areas of study include evaluating the use of the ECM in current hair transplant procedures to enhance hair growth and facilitate wound healing.
Approval by the WIRB allows the researchers to conduct double-blinded, bilateral controlled studies. Controlled studies are the best way to increase the objectivity of the research and insure the validity of the results.
"The medical research we are performing is important because it may lead to hair multiplication as a way to increase a person's supply of donor hair. In this way, patients would no longer be limited in the amount of hair which can be used in a hair restoration procedure," said Dr. Bernstein. "Additionally, in the near-term, the extracellular matrix may be able to improve the cosmetic benefit of current hair transplant procedures. We are simultaneously pushing the boundaries of hair cloning methods and follicular unit transplantation."
Hair multiplication, a variation of what is popularly known as hair cloning, is a procedure where partial hair follicles are stimulated to form whole follicles. These parts can either be from hairs derived from plucking or from follicles which have been purposely cut into sections. Generally, damaged follicular units will stop growing hairs. However, there is anecdotal evidence that an extracellular matrix applied to partial follicles may stimulate whole follicles to grow and, when applied to wounds, may stimulate the body's cells to heal the damaged tissue.
This new medical research also attempts to show that ACell can improve the healing of wounds created when follicular units are harvested for hair transplant surgery. Currently, in follicular unit hair transplant procedures, a linear scar results when a surgeon incises the patient's scalp to harvest follicular units. Occasionally, this scar can be stretched, resulting in a less-than favorable cosmetic result. If ECM can induce the wound to heal more completely, the linear scar may be improved. The extracellular matrix may also benefit general hair growth in hair transplantation in that the sites where hair is transplanted, called recipient sites, can be primed with ECM to encourage healthy growth of the hair follicle.
Dr. Bernstein is known world-wide for pioneering the hair restoration procedures of follicular unit transplantation (FUT) and follicular unit extraction (FUE). Follicular units are the naturally-occurring groups of one to four hair follicles which make up scalp hair. These tiny structures are the components which are transplanted in follicular unit hair transplants.
While hair cloning has been of great interest to hair restoration physicians and sufferers of common genetic hair loss, the method by which this can be achieved has yet to be determined. The use of ACell's extracellular matrix to generate follicles is a promising development in achieving this elusive goal. In addition to the longer term implications of using ECM in hair multiplication, its impact on hair restoration will be more immediate if it can be proven effective when used in current FUT procedures.
About Dr. Robert M. Bernstein:
Dr. Bernstein is a certified dermatologist and pioneer in the field of hair transplant surgery. His landmark medical publications have revolutionized hair transplantation and provide the foundation for techniques used by hair transplant surgeons across five continents. He is respected for his honest and ethical assessment of a patient's treatment options, exceptional surgical skills, and keen aesthetic sense in hair transplantation. In addition to his many medical publications, Dr. Bernstein has appeared as a hair loss or hair transplantation expert on The Oprah Winfrey Show, The Dr. Oz Show, Good Morning America, The Today Show, The Discovery Channel, CBS News, Fox News, and National Public Radio; and he has been interviewed for articles in GQ Magazine, Men's Health, Vogue, the New York Times, and others.
About Bernstein Medical – Center for Hair Restoration:
Bernstein Medical – Center for Hair Restoration is a state-of-the-art hair restoration facility and international referral center, located in midtown Manhattan, New York City. The center is dedicated to the diagnosis and treatment of hair loss in men and women. Hair transplant surgery, hair repair surgery, and eyebrow transplant surgery are performed using the follicular unit transplant (FUT) and follicular unit extraction (FUE) surgical hair restoration techniques.
Media Contact at Bernstein Medical – Center for Hair Restoration:
Barbara Werner
bwerner(at)bernsteinmedical(dot)com
(212) 826-2400
http://www.bernsteinmedical.com
###