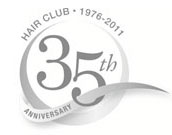 "I can't think of a better way to celebrate our company's anniversary" - Hair Club CEO Darryll Porter
Boca Raton, FL (PRWEB) October 05, 2011
Hair Club, the nation's largest provider of all-proven hair loss solutions for men and women, today announces the finale of their 35th anniversary cross-country motorcycle tour with Paul Teutul Sr., star of Discovery Channel's reality television program American Chopper.
In celebration of the company's 35th anniversary, Hair Club partnered with Orange County Choppers to design a custom-built motorcycle unveiled on-air in a January 2011 episode
of American Chopper. Created by the show's star and proprietor of Orange County Choppers, Paul Teutul, Sr., the bike's design commemorates Hair Club's milestone year. The custom
chopper incorporates the 35th anniversary logo and features illustrative design elements such as razor-edged front forks, shear-like custom rims, and a specialty paint job depicting skulls, both bald and with flaming heads of hair.
"I can't think of a better way to celebrate our company's anniversary," expressed Hair Club CEO Darryll Porter. "We all have that romantic, iconic image of speeding down an open stretch of highway on a motorcycle, hair whipping behind us, but that vision doesn't have quite the same effect if your hair is thinning or you're suffering from hair loss."
Over the past year, the chopper made appearances at some of the country's largest rallies and bike events, now making its final stop at the Orange County Choppers headquarters in Newburgh, New York. Teutul will be broadcasting from New York via satellite to networks and affiliates nationwide on October 6th to discuss the design of the custom Hair Club chopper, the company's milestone anniversary, and also his own connections to the brand as a patient.
During the filming of Hair Club's two-part American Chopper episode, Teutul visited Hair Club centers in New York and New Jersey. After a hair and scalp analysis by one of Hair Club's licensed specialists, he received a transplant procedure to address his own hair loss. In addition, Hair Club provided complimentary services to Orange County Choppers staff member Storm Sasaki, who lost his hair during radiation treatment for cancer.
ABOUT HAIR CLUB:
Founded in 1976 by Sy Sperling, 2011 marks Hair Club's 35th year in business. The leader in
Hair restoration and the largest company in the industry offering all proven hair loss solutions,
Hair Club has granted more than 500,000 men, women and children with an experience that has truly changed their lives.
###