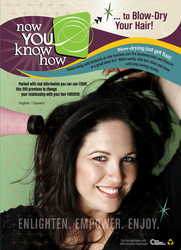 Everybody Wins At The EMMYs®
Nashville, Tenn (Vocus) March 11, 2009
As Americans are bombarded by economic recession news, "Intuitive Hair Designer" Kimberly Clo found a way to help women to feel beautiful and look "hot" on a tight budget.
According to a recent article in The New York Times, women are paying upwards of $250 for blow-drying classes. But with the current economic shift, many women cannot find the long-term value in a one-time class.
Instead, Clo chose to put her experience in a DVD that can be reviewed multiple times with real concepts that can be applied on multiple hair types. The DVD has now been made available as a download so women can learn the concepts today that will make all the difference in their style tonight.
"You know the old saying that teaching a man to fish feeds him for a lifetime. Well, it turns out," muses Kimberly, "learning how to do an amazing blow dry on yourself will really change your life forever too! And -- it's 100% fat free, no trans-fats AND makes you look 5-10 pounds thinner; guaranteed!" laughs Clo.
Kimberly has compiled her 16 years of styling experience into an easy to follow and enjoyable 65-minute DVD titled "Now You Know How...To Blow-Dry Your Hair." Clo claims that women can now know the secrets to achieving salon-quality styles at home and to never have a bad hair day that they do not choose.
The "Now You Know How...To Blow-Dry Your Hair" DVD was recently featured in the "Everybody Wins At The EMMYs®" gift basket at the 60th Annual EMMY® Awards. After viewing the DVD, country music star Sara Evans said "I feel empowered now to do my own blow dry and know I'm going to look great!"
Kimberly ponders, "Imagine how differently your life may have gone if you had mastered these skills back when you were 17-years old. You might have felt more beautiful on dates, more confident on job interviews, and empowered just walking down the street. It's worth it to learn no matter how old you are. It's an amazing feeling to finally know how!"
The DVD is available from Amazon.com the Now You Know How website and the video is available for immediate download at filmbaby.com.
About Now You Know How™
Now You Know How™ was formed in 2008 with a mission to enlighten and empower women to do something they never thought they could do. Today the hair, tomorrow the world!
The "Now You Know How...To Blow-Dry Your Hair" instructional DVD is available at http://www.NowYouKnowHow.com/ in addition to high-end blow-dryers, excellent hair brushes and the coolest hair clips ever.
Contact:
Sunny Spyridon
615-227-NYKH (615-227-6954)
###