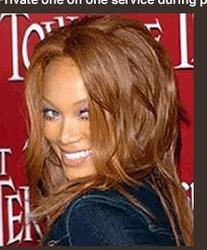 I knew nothing about Lace wigs, but Lisa told me the benefits and how to care for it.
Atlanta, GA (PRWEB) October 1, 2008
The original Hair Extensions of Atlanta, recently launched a national campaign to offer top quality lace wigs in all hair textures, lengths and colors.
Lace Wigs are purchased by a high percentage of African-American Woman. The client reviews and references were overwhelmingly positive according to Industry Review. Hair Extensions of Atlanta is ranked #1 due to their Full Lace Wigs, Lace Frontals, Hair Extensions, and Hair Fusion, retention levels were the highest in the nation. According to owner Lisa Hampton, she is excited and thankful to God for her success in business.
According to Lisa, "I specialize in lace wigs, hair replacement, eyelash extensions and Hair Extensions/Hair Fusion. It is a creative process for me. My clients are changing their image. I am so excited to be apart of that."
Industry Review found client testimonials placed value on the quality of the lace wigs as important as the owner. Most clients wear these wigs due to dissatisfaction with their own hair, a desire to have hair like the celebrities, or due to medical conditions. With the rise in hair loss due to male and female baldness, alopecia, medications, diabetes, hormonal, stress, tight braids and chemical treatments, the hair replacement industry has huge growth potential.
A client named Cheryl who is recovering from chemotherapy stated, "I knew nothing about Lace wigs, but Lisa told me the benefits and how to care for it." Cheryl also stated that Lisa loves what she does and it makes the client feel very special. A client named David said "I was experiencing male pattern baldness and as a man it was very uncomfortable calling and coming in for a consult in regards to hair replacement. The privacy and the undivided attention made me comfortable."
Ninety percent of the clients order custom lace wigs, though according to Lisa, the company does carry stock lace wigs.
Hair Extensions of Atlanta is launching the national Lace Wig campaign just in time for the holiday season and offers competitive pricing ranging from $499 -$699 for Full Lace wigs. The wigs last 6-9 months based on care.
About Hair Extensions of Atlanta:
Hair Extensions of Atlanta specializes in the following; Lace Wigs, Hair Extensions for all textures, Fusion Hair, hair replacement, eye lash extensions and can reproduce any style or texture of hair. They are partners with Inner Body Rx which specializes in Colonics and Digestive Health.
###