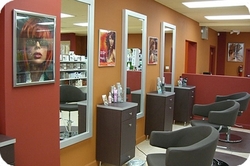 I feel like a kid in a candy store … I don't know where to start, everything I want is sold in the store and the staff is so knowledgeable and friendly.
Pembroke Pines, FL (PRWEB) April 30, 2009
When the owners of ADAZL Salon and Beauty Supply decided to open their first South Florida location in 1985, the emphasis was on creating the crème de la crème of full-service salons while offering the very best in beauty supply products. Twenty-four years and two stores later, ADAZL continues to surpass its goal. In 2008, adazl.com was created. A year later, the online store was a natural transition after continued requests from out-of-state and local clients who required an online shopping experience with more than 2500 beauty supply products. After months of designing an online shopping experience ADAZL is proud to open it's virtual doors to the internet.
Whether you visit the online store or any of the physical locations in Coral Springs or Pembroke Pines, the experience is what regular customer Patricia B. describes as, "beauty supply heaven." "I feel like a kid in a candy store … I don't know where to start, everything I want is sold in the store and the staff is so knowledgeable and friendly."
The first time that Patricia's hairstylist ordered online from our selection of professional line products, a customer service representative was available to answer all of his questions.
Is your manufacturer's preference Alfa Parf, Alter Ego, Burt's Bees, Chi, Essie, Jessica Simpson, L'anza, Matrix, Nioxin, OPI, Paul Mitchell or Sebastian? Then these are just a few of ADAZL's many products. The store also sells bath & body products for men, appliances, brushes, cosmetics, hair accessories and a pet grooming line. These products are some of the most popular in store items so ADAZL placed them in their online store as well, for deals on these items check out the online and in-store coupons on adazl.com.
ADAZL's Go Green campaign allows shoppers to preserve the environment while saving money. For every empty product container returned, participants save 15% on the next purchase of that same item. With an eclectic mix of trained professionals to choose from, ADAZL's online beauty supply offers roller sets, blow drying, hair cutting, hair coloring, highlighting, Brazilian protein treatment, eyelash extensions, manicures, pedicures, relaxers, permanent waves and many other services. All of the phenomenal products used in the salon are available at adazl.com.
ABOUT ADAZL SALON AND BEAUTY SUPPLY
ADAZL Salon and Beauty Supply has been in business since 1985. The company started with one location in Miami Lakes, and has since expanded to two locations: Coral Springs and Pembroke Pines offering more than 100 professional lines of hair care, nail care, make-up, bath, and body products as well as an extensive line of professional appliances, hairbrushes and hair accessories. A full-service hair salon in all locations offers services such as haircuts, highlighting, coloring, perming, straightening, Brazilian straightener, up-dos, and much more. Visit the online hair salon and beauty supply website for more information. You can contact the Pembroke Pines salon at 954-432-5757 or call the Coral Springs salon at 954-227-3100.
###