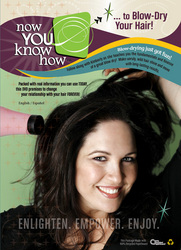 I'm so excited to have this DVD. It's very detailed and so easy to follow
Nashville, TN (PRWEB) August 28, 2008
Thanks to a newly released hair styling tips DVD, anyone can easily learn how to blow dry hair like a pro. Professional hair stylist Kimberly Clo developed the 65-minute instructional DVD, "Now You Know How™...To Blow-Dry Your Hair," because of an increased demand for salon-styled hair.
Kimberly's clients have often asked her to recommend resources offering hair styling tips and instruction on how to successfully blow dry hair in between salon appointments. No resource she found was particularly inspiring or gave enough information. As a result, Kimberly decided to personally develop a comprehensive training DVD offering step by step hair styling tips and sharing her own time-tested techniques garnered through more than fifteen years of experience working as a stylist. The information is presented in an exciting, professional video that showcases Kimberly's wisdom and charm.
The training in the "Now You Know How™...To Blow-Dry Your Hair" DVD includes theory and blow dry techniques for achieving either a straight look or bouncy movement. Kimberly personally demonstrates these principles, first on models and then on her own hair, offering advice and encouragement along the way. The various perspectives allow the viewer to better imitate the techniques.
"I'm so excited to have this DVD. It's very detailed and so easy to follow," says Sara Evans, celebrated singer-songwriter who was recently listed as one of PEOPLE Magazine's Top 25 Most Beautiful People. "I feel empowered now to do my own blow dry and know I'm going to look great!"
Kimberly claims, "Although women now have better access to the styling tools of the trade, many don't know how to properly use them. And hairstylists don't have the time to offer in-depth hair styling tips after a haircut. So, often the information the customer receives feels intimidating and complicated."
Subdivided into chapters at key points, the DVD is easy to navigate, and a viewer can skip to the section of her choice. The unique packaging is made from 100% recycled paperboard. Also included is a laminated "cheat sheet" that suction-cups to your mirror. It is a valuable tool that will give women the confidence they need when they are doing their own blow dry hairstyles.
"Now You Know How™...To Blow-Dry Your Hair" offers hope. It is a complete training in how to achieve these salon hairstyles at home using only a brush and hair dryer. Kimberly empowers women to feel confident about styling their own hair.
The video also contains a Spanish audio track and Spanish navigation menus.
About Cielo International, LLC
Cielo International, LLC was formed in 2008 with the mission of developing and producing enjoyable training materials designed to enlighten and empower individuals. "Now You Know How™...To Blow-Dry Your Hair" is the first video of the "Now You Know How™" series. Cielo International, LLC was founded and is owned by husband and wife team Timothy and Kimberly Clo. For more information, visit http://www.NowYouKnowHow.com.
To order the "Now You Know How™...To Blow-Dry Your Hair" DVD and learn valuable hair styling tips and blow dry instruction, visit http://www.nowyouknowhow.com/modules/store/
Contact:
Rachel Elliott, public relations
615.481.8004
###