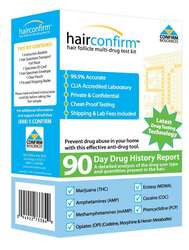 Parents have been asking for a product like this for several years, many prefer a hair test to an instant urine test and like the fact that the hair test goes back several months in detecting drug use. We expect this product to be a big seller
San Diego, Calif. (PRWEB) August 3, 2007
Confirm BioSciences is pleased to announce that it has over 20 distributors and retailers for the HairConfirm product line throughout the US after being on the market for just 6 weeks. The company has just recently signed an agreement with Amazon for its internet initiative. It's anticipated based on current sales that the distributors combined will purchase more than 200,000 kits annually. The company is currently in discussions with some of the major pharmacy chains for retail distribution.
"Parents have been asking for a product like this for several years, many prefer a hair test to an instant urine test and like the fact that the hair test goes back several months in detecting drug use. We expect this product to be a big seller," said Joseph Reilly of Florida Drug Screening, one of HairConfirm's main distributors. Reilly is also Chairman of the Board of Directors of DATIA, the Drug and Alcohol Testing Industry Association with over 1300 members.
HairConfirm enables parents to take a more proactive role in preventing their children's illegal drug use. "By offering HairConfirm through our distributors, we are better able to offer the product to a wide range of individuals who need to use the test," said Zeynep Ilgaz, President & CEO of Confirm BioSciences. "The feedback we have gotten from parents that have used the test has been overwhelming. It is a good feeling to know that we're making a difference in those family's lives. By drug testing at home, parents are not only confronting the problem but also are doing something about it," she continued. The HairConfirm™ Hair Follicle Drug Test Kit is ideal for parents who want to test their teens.
HairConfirm is the first home drug test of its kind to provide accurate results and a detailed drug history report -- detecting drug use for up to 90 days and identifying whether the user is a low, medium or high user. Moreover, most test results are available two business days after the lab receives the sample, the fastest turnaround time in hair testing. Unlike urine and saliva testing, which can be tampered with and detectable for only up to two or three days, HairConfirm™ screens for the five most popular drug classes including cocaine, marijuana, amphetamine, opiates and heroin.
"Drug testing sounded scary and invasive, but when I came across the Hair Confirm Hair Follicle Test Kit I felt immediately at ease. The days of complicated tests are over and I'm eternally grateful," said Carolyn Simmons of Montgomery, Alabama
HairConfirm is sold through resellers and drug stores and available to consumers and schools. To read more about HairConfirm visit http://www.hairconfirm.com and the below informational links:
How Hair Drug Testing Works Hair drug testing is the most effective method of drug screening to detect long term drug use.
Hair Drug Testing Cut Off Levels This document talks about the cut off levels used by the lab for detecting drug use.
Hair Drug Testing Instructions Simple instructions to follow for an accurate and confidential hair drug testing.
Where to Buy Hair Drug Testing Kits - HairConfirm Resellers and Retailers List of HairConfirm Hair Drug Test Kit Retailers and Resellers, News and Informational links regarding hair drug testing
About Confirm BioSciences™:
Confirm BioSciences is a global leader in the field of Lab Testing for Drugs of Abuse. The Company has developed a diagnostic home based hair follicle test kit, HairConfirm™ for the detection of drugs of abuse.
HairConfirm™ screens for the five most popular drug classes to determine a 90 drug screening history. With a simple at home hair collection procedure, HairConfirm is designed for parents and individuals that want a fast and accurate hair drug testing result. Hair Confirm Drug test service is 100% confidential and no personal information is required.
###