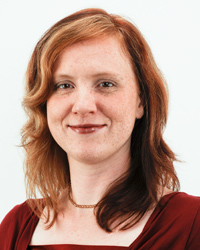 Bainbridge, PA (PRWEB) November 01, 2011
Hair Direct, an online hair replacement company, has named Emma Groff as Director of Technology. In this newly-created role, Ms. Groff will drive strategy for the company's rapidly expanding technology portfolio. In addition, she will manage a team of internal and external programmers who will create web applications to enhance customer experience and boost operational efficiency.
"Our increasing rate of growth necessitated a focused, guiding hand for our technology efforts on both the front and back end," said Bill Biesecker, Jr., Hair Direct president. "Emma is a proven leader with a history of turning complex technological hurdles into smart, streamlined solutions. We're thrilled to have her on board."
Prior to joining Hair Direct, Ms. Groff, a Central Pennsylvania native, spent over a decade in various management and development roles at Cargas Systems, Inc., a business software and consulting firm headquartered in Lancaster, PA.
"Hair Direct is a dynamic organization and I'm excited to be here," said Ms. Groff. "One of the things that attracted me to this company is their full embrace of technology to create better products and services for their customers. I can't wait to get started."
One of Ms. Groff's key priorities at Hair Direct will be establishing relationships with and setting expectations for the company's network of external technology partners.
About Hair Direct
Founded in 1998, Pennsylvania-based Hair Direct Inc. is a mail order hair replacement company. With clients worldwide, the company provides nonsurgical hair replacement systems (hairpieces, toupees, etc.) for both men and women. Hair Direct also sells a complete line of attachment and maintenance products online at http://www.hairdirect.com/store. The company has a manufacturing facility in Qingdao, China.
For more information or to arrange an interview with Ms. Groff, please contact Brandon Andrews at (717) 426-4333, or email brandon(at)hairdirect(dot)com.
###