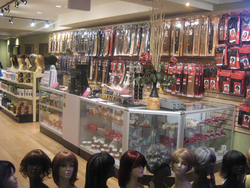 We are proud to be extending our services to more of our customers in the interior of BC and will continue to provide the service that they have come to expect from our Kelowna location
(PRWEB) July 28, 2010
Hair extension salon, MaryClaris has opened it second location in Vernon BC, Canada. The salon will specialize in offering hair extension services to its customer base in Vernon and the surrounding areas. The salon is located on 3012 30th Avenue Vernon. This is in addition to their existing location in Kelowna at 549 Bernard Avenue.
MaryClaris Hair Extensions and beauty supplies specializes in a wide selection of 100% human and synthetic hair extensions, they carry Wigs,Fusion hair, Remy hair, Clip-in hair extensions, Ponytails and Hair extension supplies. The company also offers services in hair braiding, cornrows, fusion and weaving.
Wendy, vice president of MaryClaris Hair Extension and beauty supplies said that "We are proud to be extending our services to more of our customers in the interior of BC and will continue to provide the service that they have come to expect from our Kelowna location."
What makes the company's offering unique is its dedication to offering a unique service that caters specifically to hair extension needs. "Every school year end for example, we help grade 12 graduates look their best by offering clip-in hair extensions for their graduation. Clip-in hair Extensions are an easy and fast way to add volume and length to your hair."
Wendy is more proud of the work that they do with providing wigs and accessories to cancer patients going through chemotherapy. "Going through cancer is a difficult process. I know because my mother went through the same process. Providing a caring environment that helps the patients regain a sense of normalcy is emotionally critical. By providing wigs and other accessories, we help our cancer clients regain control of how they look."
The company is also running a grand opening competition that ends next month.
In addition, the company also announced that it has completed a major revamp of their website, http://www.maryclaris.com.
"We also undertook a major transformation of our website to help our customers find hair products more easily. We are working hard to bringing the right information to make our customers more informed of the choices that they have. The hair extensions industry is an emerging market and there is a myriad of information on the hair extensions in general. Our job to help our customers become more educated and help them sift through the different information that is out there."
###