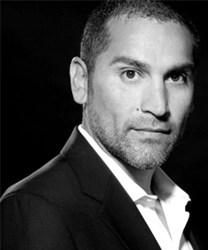 Winning your first time competing is completely unexpected and almost felt like beginner's luck. Having not won since, I am determined to prove to myself that it wasn't a fluke and that I can do it again.
Austin, Texas (PRWEB) July 29, 2013
The North American Hairdresser Awards (NAHA), which many would consider the Academy Awards of hairdressing, are awarded annually in 14 categories and salute technical excellence and artistic expression in hairdressing, as well as salon design aesthetic and beauty business acumen.
Austin-based hairdresser Allen Ruiz, who took home the coveted title of Hairstylist of the Year the first time he was selected as a finalist in 2007, has yet to find the winning formula needed to bring home the coveted award a second time. "It's been a tough year and winning NAHA again would mean more than words can describe," explains Ruiz who lost his mother to a tragic car accident earlier this year. "Winning your first time competing is completely unexpected and almost felt like beginner's luck. Having not won since, I am determined to prove to myself that it wasn't a fluke and that I can do it again." If Allen were to win in July, he'd be the first Latin-American stylist to take home the Professional Beauty Association's top honor twice in the twenty-four year history of the awards.
Allen attributes his constant travels, combined with living in a fashion-forward city (Austin) to what helps maintain his creative edge. "I live in a city where the slogan is 'keep Austin weird,'"explains Ruiz. "I have a very diverse clientele that are willing to let me try new things in the salon and for that I feel fortunate." Currently serving as North American Global Style Director for Aveda, Allen just recently returned from Tokyo, Hong Kong and New York where he helped create the hair for Stella McCartney's Spring 2014 Collection.
With a total of five nominees in the category of Hairstylist of the Year, several industry sources have touted Ruiz's work to be a front-runner in the competition. Winners will be announced at a gala taking place on July 14th from 8-10pm at The Mandalay Bay Hotel & Casino in Las Vegas. Actor and entertainment journalist, Mario Lopez is slated to host the awards ceremony.
About Allen Ruiz
Globally recognized for his talent, vision and award-winning images, Allen Ruiz has been perfecting the art of hairdressing for the past two decades.
Allen's passion for fashion has taken him all over the world where he's had the opportunity to study under runway and editorial legends including Antoinette Beenders, Guido and Odile Gibert. A creative force behind many runway looks, Allen has engineered the hair for fashion houses including Cynthia Rowley, Stella McCartney, Marc Jacobs, Christian Siriano, Rodarte, and Charlotte Ronson.
Allen's editorial and campaign work have graced the pages of leading consumer and trade publications including Vanity Fair, W, Shape, Harper's Bazaar, and American Salon.
Working as a creative consultant for Aveda for the past 18 years, Allen currently serves as the company's Global Style Director for North America. In addition to creating imagery on fashion and education fronts, Allen has also lent his product development insights and expertise to brands including Aveda and Avon.
In 2007, Latina Magazine deemed Allen as one of the Top 10 Latino Hairdressers in America. A four-time Canadian Mirror Awards nominee for International Hairstylist of the Year, Allen took home the prestigious award in 2011. He has also been the recipient of five North America Hair Dresser (NAHA) nominations garnering Hairstylist of the Year honors in 2007 and Salon Team of the Year in 2011. Jackson Ruiz, Allen's award-winning salon located in Austin, Texas has been featured by Salon Today Magazine as one of the Top 200 Salons in the US.
Learn more about Ruiz and his salon by visiting http://www.jacksonruiz.com.
For more information on the North American Hairstyling Awards and to see Allen's NAHA submission for 2013 Hairdresser Of The Year, go to: http://www.ProBeauty.Org.