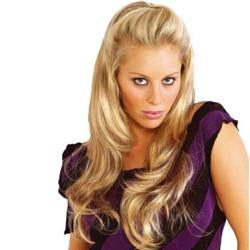 literally transform your hair in minutes!
(PRWEB UK) 28 August 2012
For as long as we can remember, girls have been trying to get the celebrity look. Some people have gone to extremes, maxing out credit cards on top fashion labels and makeup to look like their favourite A-Lister. The reality is that without a personal stylist 24/7 and a photographer at hand to airbrush photos, most of us won't manage the perfect look all of the time. The good news is, BuyHair.co.uk have just released a range of hairpieces starting from only £19.97, which literally transform your hair in minutes! No more breaking the bank for expensive hair products and extensions. The hairpieces can either be applied on top of the hair or just below the first layers to give instant volume and length.
Hairpieces are available in synthetic and human hair, which has a big impact on the price. Though people are often hesitant to buy synthetic hair, most are unaware of the huge improvements in recent years, making it much more natural-looking and matte. Synthetic hair also has the benefit of maintaining its style for much longer than its human counterpart. Many celebrities, including Jodie Lundstram from Desperate Scousewives, now opt for a synthetic hairpiece instead of clip in hair extensions.
Each hairpiece is offered in a wide range of colours so there is a perfect match for almost all natural hair tones. BuyHair.co.uk offer a hair colour matching service, so customers can upload their picture and have their closest colour pointed out by a trained professional. To find out more about hairpieces or to buy your own, visit http://www.buyhair.co.uk today!