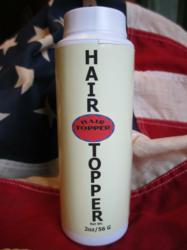 I feel great going out with friends who don't know I have thinning hair. Hair Topper is great!
Crescent City, CA (PRWEB) March 05, 2012
Hair Topper has discovered that the demand for concealing thinning hair is from a much younger consumer.‭ ‬Nearer the age of‭ ‬40‭ ‬or older,‭ ‬people tend to have thin hair issues. This isn't always the case. Hair Topper has met the demands of the younger demographic.‭ ‬As people age there is an ongoing challenge to conceal or cover up thinning hair.‭ ‬People purchase hair pieces and wear hats to deal this this ongoing problem.‭ ‬What people don't often think about is there are other alternatives to conceal balding or thinning hair.‭ ‬Hair Topper uses a material known as‭ '‬hair building fibers‭'‬.‭ The hair building fibers consist of static cling properties. Giving the micro fibers the ability to cling to the hair strand. Thus making the strand appear thicker and fuller naturally. The hair building fibers mimic the structure of real hair.
‭The micro hair building fibers comes in 8 natural shades, allowing the fibers to blend right into the hair. ‬Hair Topper has become more popular in the recent years for those who want to have an appearance of thicker hair.‭ ‬This product can be sprinkled into the thinning hair and within seconds the hair looks fuller.‭ ‬Hair Topper is sold in beauty salons and barber shops. You can order directly from the Hair Topper website if you go to http://www.hairtopper.com. Hair Topper has just reconstructed the entire website for a more user friendly site. The site also includes a color chart and a video demonstration.
There are eight different natural shades: black, dark brown, medium brown, light brown/blonde, silver, salt and pepper, and auburn. The fibers are eco friendly: 60% organic and hypo-allergenic.
Hair Topper is manufactured in America. This is company that is a strong supporter of American made products. Our goal is to give solutions for thinning hair issues and bring self confidence to a whole new level. To see a full demonstration of Hair Topper you can watch a video on youtube.com enter this link:http://www.youtube.com/user/Hairtopperproducts?feature=watch