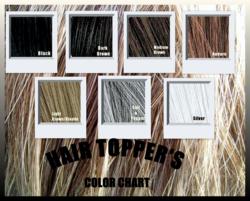 I really like the freedom I get when I know people can't see my scalp. Hair Topper is a huge life saver!
Crescent City, CA (PRWEB) April 18, 2012
Hair Topper-Solutions for thinning hair has recently reconstructed the website. On-line advertising has drawn more attention to the micro hair fiber concealer company. Since the beginning of 2012 sales have increased by 30%. Hair Topper has also included on the website other products for hair care needs. Hair Topper has been in business for two years this year and is always looking for ways to improve product quality and find solutions to thinning hair issues.
The website that is available for people to order the color fibers will match hair color naturally including professionally dyed hair. The company that thickens hair at the root has added more user friendly options on the site and offer more services for ease of purchase of Hair Topper with credit cards other than PayPal. The shipping cost, return policies and exchange policies have changed. America will still have free shipping. All international will have to pay shipping cost but the cost of shipping will be lower than that of the postal service charges. Hair Topper charges shipping only what is a fair price to pay for mailing. Even though it will mean Hair Topper will have to spend some profits on the international shipping cost. That does not matter to Hair Topper. Hair Topper would rather help all international customers to afford the cost of shipping. Hair Topper would rather earn the trust of the consumer then to worry about spending profits on shipping cost.
The site includes testimonials from loyal customers and more products for hair fullness success. The site has larger color swatches to see the color more clear on the website when choosing the natural color shade that people will need to apply the hair building fibers to the hair. Hair Topper will match any hair color weather natural or dyed professionally or hair that was dyed with home coloring product.
There are eight different natural shades: black, dark brown, medium brown, light brown/blonde, silver, salt and pepper, and auburn. The fibers are eco friendly: 60% organic and hypo-allergenic.
Hair Topper is manufactured in America. We are a company that is a strong supporter of American made products. Our goal is to give solutions for thinning hair issues and bring self confidence to a whole new level. To see a full demonstration of Hair Topper you can watch a video on youtube.com enter this link:http://www.youtube.com/user/Hairtopperproducts?feature=watch