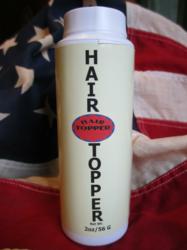 Hair Topper is right next to my tooth brush. I put it on everyday before work. I love it that I feel free from people seeing my scalp.
Crescent City, CA (PRWEB) April 27, 2012
Hair Topper will be demonstrating the micro hair fibers at a local home show in Seattle Washington end of June.‭ ‬They recently just started to promote in trade shows with much success.‭ ‬The beauty salon owner of Hair is There has been selling the product,‭ ‬Hair Topper since last September.‭ ‬The salon owner invited Hair Topper to help promote the salon and other stylist.‭ ‬This is a cross promotion for Hair Topper.‭
Static Rocker a local band from Crescent City, ‬California did the music for the Hair Topper commercial.‭ ‬To view the commercial go to the website at http://www.hairtopper.com. ‬Static Rocker just introduced a new band member from Finland.‭ ‬So they are only in part a local band.‭ ‬Static Rocker can also be heard on You‭ ‬Tube under Static Rocker.‭ ‬They have a very impressive playlist.‭ ‬The artists are quite unusual.‭ ‬They have sort of a Beatles/Punk sound.
Hair Topper has asked Static Rocker to write another song for the company to further promote the hair fiber concealer.‭ ‬Hair Topper will soon be creating another commercial.‭ ‬Soon it will be added to the website as well as social media and YouTube.‭
There are eight different natural shades: black, dark brown, medium brown, light brown/blonde, silver, salt and pepper, and auburn. The fibers are eco friendly: 60% organic and hypo-allergenic.
Hair Topper is manufactured in America. This is company that is a strong supporter of American made products. Our goal is to give solutions for thinning hair issues and bring self confidence to a whole new level. To see a full demonstration of Hair Topper watch this video on youtube.com: http://www.youtube.com/user/Hairtopperproducts?feature=watch