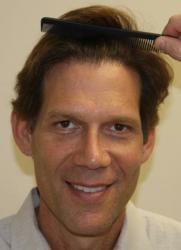 The hair growth time line video has been produced in order to make the patient feel more comfortable regarding their appearance post operatively
Franklin, Tennessee (PRWEB) May 24, 2012
Dr. Brett Bolton and Great Hair Transplants announce the release of the first ever hair growth time line video for people suffering from hair loss and seeking a hair transplant procedure. The growth time line features two patients on the website, GreatHairTransplants.com. Both patients are recipients of Dr. Bolton's newest technique, the MaxHarvest™, which delivers maximum density and coverage in just one procedure!
"The most asked questions when people are considering a hair transplant procedure are 'how will it look right after my surgery?', 'how will it look after a few days?', and 'when will I look normal again?'", explains Dr. Brett Bolton. Every potential patient almost always asks these exact same questions. They have concerns over how they will look to others and when they will be able to go back to work. This video is an excellent example of what hair transplant patients can expect during the recovery and growth phases of the procedure. The attention to detail and superior quality control are just a few examples of why Dr. Bolton and Great Hair Transplants can deliver such remarkable results in just one procedure! The hair growth time line has been produced in order to make the patient feel comfortable regarding their appearance post operatively. "No matter how many times they hear how they will look, patients prefer to see for themselves examples of the procedure post operatively. Now, patients will have an opportunity to see exactly what to expect. The hair growth time line video takes away that fear", explains Dr. Bolton. "The more we prepare them, the more confident they feel! "
Great Hair Transplants has two fully staffed state of the art surgery centers:
2715 East Oakland Park Blvd.
Second Floor
Fort Lauderdale, FL. 33306
2000 Meridian Blvd.
Suite 270
Franklin, TN. 37067
Great Hair Transplants has been extremely successful with it's recently developed hair loss patient education division. The company continues to provide information for proven solutions to hair loss. "It is sad the industry has used smoke & mirrors to confuse the hair loss victim over the years", explains Steve Cook, Chief Operating Officer at Great Hair Transplants. "We wake up every day to educate men and women who are suffering from hair loss. People are confused about what to do and all we do is provide them with options that are proven to work".