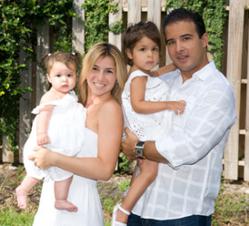 What if Mia was your daughter?
Fort Lauderdale, FL (PRWEB) October 19, 2011
Spinal Muscular Atrophy occurs in 1 out of every 6,000 children. There are currently no treatments or a cure. Aldo and his wife Fiorenna refuse to give up or lose hope. Mia is their little girl and they are going to do everything in their power to protect and take care of her. The Israel family is trying to raise as much awareness to this disease as possible. Awareness helps to raise more donations to help find new treatments or a cure! The Israel family is hosting "The Gala of Hope" for Mia on November 17, 2011 at the Seminole Hard Rock Hotel and Casino in Hollywood Florida. Dr. Brett Bolton and GreatHairTransplants.com is one of the many local merchants donating its products and services in an effort to help raise funds and find a cure.
The Gala of Hope is a chance to help Mia and children just like her. No child should have to endure this. The Israel family has teamed up with the local community and several local doctors. There are numerous people and merchants donating to the cause to help raise the funds necessary to help find new medical treatments or a cure.
Among the merchants donating to the raffle are JR Dunn Jewelers, The Improv, and Ferrari – Maserati of Fort Lauderdale. One of the doctors who is donating to help support the Israels is Dr. Brett Bolton of GreatHairTransplants.com. When Aldo was suffering from hair loss, multiple doctor's that he met with told him that his hair loss was too far gone and could not be restored. Aldo refused to give up hope and kept on researching until he found Dr. Brett Bolton. In just five short months, Aldo has received what would be perceived by many as a miracle! Aldo now has the appearance of a full head of hair after only one procedure! His perseverance paid off, and now Aldo is looking for another miracle for his daughter. It is this type of dedication and perseverance that Mia needs right now!
Dr. Brett Bolton and GreatHairTransplants.com has donated 10 of their MaxHarvest hair transplant procedures valued at a $120,000 to auction off at the Gala in an effort to help the Israel family on their quest. Dr. Bolton commented, "My desire is to do everything in my power to help raise money and awareness to help defeat this deadly disease. I consider each and every one of my patients as my family and for this to happen to any one of my family members is unacceptable."
The Israel family is determined to do their part to help find a cure and defeat this deadly disease!
So come to the gala, and show your support. What if Mia was your daughter?
P.S. Please forward this press release to as many people as you can to encourage them to come to the Gala and help support a good cause! Remember by purchasing your hair transplant at the Gala will allow it to be tax deductible!
# # #