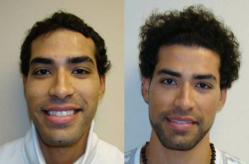 People with hair loss are traveling in from all over the world for the best one procedure hair transplant doctor on the planet.
Brentwood, TN. (PRWEB) May 30, 2013
Dr. Brett Bolton, founder and medical director of Great Hair Transplants, is often referred to by his patients as Dr Density. Dr. Bolton and his MAXHARVEST™ hair restoration procedure are helping patients worldwide with hair loss. The videos are available online for potential patients to watch in private. The videos have now been watched more than 3.5 million times. Hair transplantation is the number one cosmetic procedure chosen by men. And a large number of those men are impressed enough to fly in for the MAXHARVEST™ from all over the world. A few weeks ago, two patients flew into the state of the art surgical center @ Great Hair Transplants from England and one flew in from Asia. The patient Ryan video has now been watched by more than 600,000 viewers. "The hair transplant industry promotes mostly single and two hair follicular grafts," explains Steve Cook, COO at Great Hair Transplants. "The main issue for all hair transplant patients is a serious lack of density when the procedure is performed in this manner. The MAXHARVEST™ provides each patient with that sought after maximum density!" Hundreds of examples of MAXHARVEST™ density and it's undetectable scar are available on the company website, http://www.greathairtransplants.com
Great Hair Transplants
8115 Isabella Lane
Suite 6
Brentwood TN. 37027
2715 East Oakland Park Blvd.
Entire Second Floor
Fort Lauderdale, FL. 33306
Dr. Brett Bolton and Great Hair Transplants have been delivering outstanding hair transplant results to patients all around the world for more 16 years. The company brand includes the MAXHARVEST™, Bolton Bundles, the Bolton Whorl, and the Bolton Edge as techniques pioneered for patients of Great Hair Transplants. Examples of these techniques can be found on the company website, http://www.greathairtransplants.com.