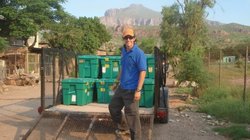 My main concern is the impending rainy season.
Lakewood Ranch, Fla. (Vocus) April 8, 2010
Steven Tonkinson, managing director of Rick Tonkinson & Associates financial planning firm, will depart April 15th to deliver shelter and clean water for survivors of the Haiti Earthquake.
ShelterBox is distributing disaster relief tents and life-saving supplies for up to 100,000 earthquake survivors in Haiti. Around 10,000 ShelterBoxes have arrived in Haiti and more are arriving daily. Each iconic green ShelterBox contains elements not provided by any other relief organization: a disaster relief tent for up to 10 people, stove, blankets and water filtration system, among other things.
Tonkinson will join the rest of the ShelterBox Response Team (SRT) which has been in country since the day after the earthquake struck Port Au Prince.
"My main concern is the impending rainy season," said Tonkinson, "because for many, the only shelter some have is a simple bed sheet or a plastic tarp."
Tonkinson, a volunteer for ShelterBox, has already done much in the outset of the disaster. During the initial weeks after the earthquake, Tonkinson was instrumental in ensuring ShelterBoxes made their way from Miami to Santo Domingo and finally to Port Au Prince.
"I'm excited to continue the awesome effort and difference ShelterBox has made for the people of Haiti in this time of need," said Tonkinson. "I have been in communication with the team in Haiti so I have a very good understanding of our situation on the ground."
Individual tax-deductible donations to ShelterBox USA can be made at http://www.shelterboxusa.org or via text message by sending SHELTER to 20222 for a one-time $10 donation
About ShelterBox
Since its inception in 2000, ShelterBox (http://www.shelterboxusa.org) has provided shelter and dignity following over 100 disasters in more than 70 countries, bringing the organization to the forefront of international disaster relief. ShelterBox instantly responds to earthquake, volcano, flood, hurricane, cyclone, tsunami or conflict by delivering boxes of aid. In many cases ShelterBoxes have made the difference between life and death.
Each ShelterBox supplies an extended family of up to 10 people with a tent and lifesaving equipment to use while they are displaced or homeless. The contents are tailored depending on the nature and location of the disaster, with great care taken sourcing every item to ensure it is robust enough to be of lasting value. Highly trained ShelterBox Response Teams distribute boxes on the ground, working closely with local organizations, international aid agencies and Rotary clubs worldwide.
###