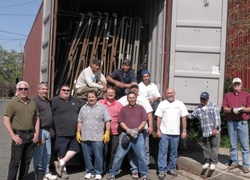 We now have a new, responsible way to help care for others in need around the world.
Vancouver, WA (PRWEB) April 29, 2010
A joint effort between EHC Management, L.L.C., and Rotary International is delivering nearly 700 hospital beds and other medical equipment to earthquake-ravaged Haiti and nearby Spanish Town, Jamaica.
The collaboration was the brainchild of Lynne Stubblefield, project manager for EHC, and John Eaton, president of the Rotary Club of Shelton, Wa. Both organizations said they will use this operation as a blueprint for future global relief efforts.
"As the people of Haiti recover and rebuild, these materials will give them comfort during a terrible time," Anne Nipp, EHC Management's CEO, said on Tuesday. "Thanks to Lynne and John's initiative, we now have a new, responsible way to help care for others in need around the world."
Eaton said the donation and delivery of the 691 hospital beds from EHC Management's West Coast long-term care communities is "another small, yet significant, contribution made possible by Rotarians partnering with business to provide humanitarian aid and promote world understanding and peace. It's something I'm very happy that I could be a part of."
The first three of seven containers full of donated equipment have arrived in Spanish Town, "where they are in desperate need of beds," Eaton said. They will be delivered to St. Catherine Hospital there. The second wave of shipments is scheduled to arrival in Haiti over the next several weeks, where Food for the Poor, a U.S.-based international relief and development charity, has agreed to receive the shipments. The beds and other supplies will then be distributed where they are needed most.
The surplus hospital beds have been picked up at nine of the initial 10 EHC locations as of Tuesday. The beds, mostly manually-adjustable models, were made available through scheduled updates to each nursing home's medical equipment. Eaton estimated the total value of the effort at $500,000, including the convalescent equipment, shipping and labor costs, all of which were donated.
"As this initial 700 hospital bed project winds down, I see this as just the beginning," Eaton said. "Donations have been pouring in--everything, from tents, dialysis and reverse osmosis machines to fire engines. Plus, this is only the first 10 of EHC's 51 facilities. Who knows what this project may grow into?"
About EHC Management, L.L.C.
EHC Management, L.L.C., provides management and consulting services to 51 skilled and assisted living communities in six western states. EHC-managed communities are committed to providing outstanding, resident-centered health care and to treating each individual with dignity and respect. EHC Management is a 100 percent employee-owned company based in Vancouver, Wa. Visit http://www.evergreenhealthcare.com for more information and to take virtual tours of their nursing home, assisted living and post-acute care facilities.
About Rotary International
Rotary is a worldwide organization of business and professional leaders united in humanitarian service. It has more than 1.2 million members in more than 33,000 clubs in 200 countries. For more information, visit http://www.rotary.org.
# # #