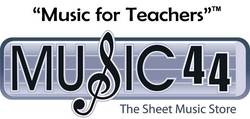 The winner receives a coupon that works just like cash. So you aren't limited to specific sheet music or music book titles. And there is no requirement to spend over the coupon amount—so it is truly free sheet music and music books, without strings attach
Indianapolis, IN (PRWEB) January 12, 2010
The Music44 Music for Teachers free sheet music gift supports music teachers and schools by providing sheet music, school music books, music software and music textbooks. The most popular book choices by recent Music44 winners include the Hal Leonard Essential Elements 2000 series, the Alfred 21st Century Band Method series, and the Neil Kjos Standard of Excellence music books series.
Periodically, sponsor Music44.com randomly selects one lucky recipient from among the entries. No purchase is necessary to enter or win this free gift. Void where prohibited.
"Our Music for Teachers free music book giveaway is open to public and private institutions that offer a music curriculum. This includes schools, conservatories, colleges, and even private teaching studios," says Music44 program coordinator Michelle Oleck. "Schools have played a big role in making Music44 a successful online sheet music store, and this is our way to give something back."
Michelle explains, "The winner receives a coupon that works just like cash. So you aren't limited to specific sheet music or music book titles. And there is no requirement to spend over the coupon amount--so it is truly free sheet music and music books, without strings attached! (No pun intended.)"
Not surprisingly, the largest music print publisher Hal Leonard receives the largest number of free book requests through the Music for Teachers program. Hal Leonard offers the popular Essential Elements 2000 band and orchestra series, Discovery Choral, Concert Band and Marching Band sheet music scores and more. In fact, Hal Leonard offers over 80,000 sheet music and music book titles in print!
The runner up is Alfred Publishing, with the 21st Century Band Method, Music Expressions, Orff/Kodaly series for kids, and more. Neil Kjos Standard of Excellence is also a popular choice.
Music44 stocks thousands of popular music book titles by Hal Leonard Publishing, Alfred Publishing, Neil Kjos and others, so you can get your music books delivered promptly and hassle free. Also, the Music44 search tool offers a complete search functionality that cross references publisher with title keywords, instrument keywords, author or series. So to find all Hal Leonard Discovery Choral series, for example, just enter "Hal Leonard Discovery Choral" in the Music44 Search box and you will instantly see all 764 selections available. Add more keywords to narrow your Hal Leonard Choral search. For example, add "CD" (search: hal leonard discovery choral cd) and you will see 226 accompaniment CDs available. Add a specific arranger or author last name to narrow further, or add a title keyword to pull up specific pieces. Everything in music print is just that easy to find at Music44!
If you are a music teacher, you are invited to enter your school into the free Music for Teachers program. Simply email your name, email, school name, city and state to michelle(at)music44(dot)com in order to be entered into the next drawing.
For more information, please contact Troy Mulander or visit music44.com.
About Music44:
Music44 is a privately held corporation and online retailer of sheet music, music books and instruments. The company has been in business since 1999 and grown steadily to become one of the top retailers in its niche.
Contact:
Troy Mulander
Music44.com
(866) 419-6497
# # #