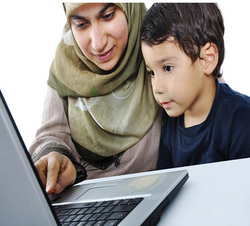 Muslims want the ability to protect the online experience of their families according to their Islamic beliefs and values.
Clifton, NJ (PRWEB) July 23, 2010 - Halal-
internet™ launched a new software program today designed with Muslims in mind. HalalGate™ is the first Internet filter with parental control features that allows Muslim parents, educators, and business owners to surf the internet freely without running into inappropriate web content that conflicts with essential Islamic beliefs and values.
Created by Muslims and inspired by the growing need among the Islamic community to minimize degrading cultural variables, this powerful tool is simple to install and easy to use. HalalGate™ empowers websurfers by blocking dating sites and webpages featuring gambling, alcohol, and drug usage. Websites referencing terrorism, violence, pornography, or exhibiting any extremist behavior can also be blocked. HalalGate™ helps keep people in your home or workplace on task and away from any topics that contradict Islamic values. The best part is you get to control what you want your family to access.
Sayed Jaafar, chief executive officer and co-founder of HalalGate's parent company, Algorithm-US, LLC, says he came up with the concept of a Halal-Internet™ to minimize the harmful influences available on the World Wide Web. "All parental control or Internet filter software that is either furnished with Windows® or sold separately on the Internet is created according to inherently Western values," Jaafar explains. "These programs filter content based on political correctness rather than on a custom priority to meet the needs of a particular group or culture. HalalGate™ is the only product of this kind that actually helps Muslims target and control the type of content that is accessed by Internet users in their homes and businesses."
Additional HalalGate™ highlights include parental control options that can limit children's time online as well as restrict access to chat rooms, instant messaging programs, and social networking sites that many parents feel promote non-Islamic behaviors.
HalalGate™ works well on both your laptop and desktop computers and has complete remote configuration capabilities making it accessible everywhere. The software is securely password-protected and settings can only be modified by one authorized user, making it impossible for children to delete, uninstall, or change the program settings.
"Muslims want the ability to protect the online experience of their families according to their Islamic beliefs and values. The demand for a specialized Internet filter is based on freedom of choice," says Jaafar.
HalalGate™ is geared towards an exclusive clientèle striving to incorporate as many Halal choices whenever and wherever possible. HalalGate™ understands how critical the Internet is for work and educational pursuits and is geared at protecting Muslims from unlawful content.
HalalGate™ is offering a FREE TRIAL Its slogan is " YOUR Halal-INTERNET™ START HERE."
About Us:
ALGORITHM-US, LLC designs smart Internet tools and solutions for specialized needs. The company, founded in 2006, aims to create software programs that do what current market options don't-- Meet the needs of the Muslim world.
Contact:
Ayoub Tahir. N.E regional manager
PR(at)halal-internet(dot)com
Phone: 201-355-3373
###