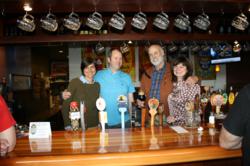 Its all about great beer and small plates, enjoying the people across the table. The Partnership between The Kolbein's and the Hale's, just makes sense. Great Beer and Great Food.
Silverdale, WA (PRWEB) April 15, 2013
Two local Kitsap County families have merged to bring together the best in dining and craft beers. Pacific Northwest brewing legend Mike Hale of Hale's Alehouse has formed a partnership with Sandy Kolbeins of The Loft Restaurant to reinvent the Alehouse menu in order to better compliment its award winning beers.
When Sandy and Angela Kolbein's opened The Loft Restaurant in Poulsbo, it quickly became the most popular happy hour in town. The Loft brings together an award-winning chef, fresh local ingredients, always-friendly service, creating a fun and inviting atmosphere.
Sandy's success in the restaurant business has created new standards in atmosphere and cuisine, rooted in community. In addition to sourcing many of their ingredients locally, Sandy and Kitsap native Angela, are ardent supporters of the community in which they live.
After learning the art of brewing in a small town outside of London, Mike Hale founded Hale's Ales in 1983. He has become a legend in the Northwest craft brewing scene with his amazing, award-winning beers. Mike has called Kitsap his home for many years all while growing Hale's Ales into a mainstay of the local brewing community. Mike's wife Kathleen saw her dream realized when they brought the taste of Hale's to her native Kitsap Peninsula in Silverdale.
The merger between Sandy & Angela Kolbeins and Hale's Alehouse is a natural fit. Mike's handcrafted ales and Sandy's flair for creating an ideal dining experience go hand–in-hand,
creating a new local go-to spot. Both families look forward to welcoming you to Hale's Alehouse to experience the changes that have arisen out of the merger of these two local families.
For additional information and media inquires please contact:
The RockFish Group
Kelle Kitchel-Cooper, Director of Development
Phone: (360) 774-0431 | Kelle(at)RockFishGroup(dot)com