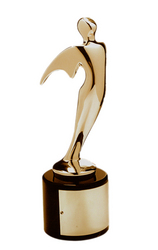 Effects of Second Hand Smoke 1
Chico, CA (Vocus) June 3, 2010
Half a Bubble Out, a marketing and advertising firm in Chico, CA, recently won two prestigious 2010 Telly Awards. The awards were issued for a series of television commercials they created for First 5 Butte County Children and Families Commission. Founded in 1978 to honor excellence in local, regional, and cable television commercials and programs, the Telly Awards is the premier recognition for industry leaders in every field from international firms to local production companies and advertising agencies. A judging panel of 350 accomplished industry professionals uses rigorous standards to award less than 10% of the 13,000 pieces as either Silver or Bronze Winners. Former Telly Award winners include Microsoft, NBC Universal, Nickelodeon, Outdoor Channel, TV Guide Network, and Warner Bros.
Half a Bubble Out's commercial campaign, "Effects of Second Hand Smoke 1, 2 & 3," won bronze in the "Campaign – Not for Profit" category. Their individual commercial, "Effects of Second Hand Smoke 1," won bronze in the "Public Service" category. "Every year we work hard to listen to our clients, create great marketing for them, and help them achieve their goals" says Michael Redman, Half a Bubble Out's co-founder and owner. "These commercials represent the kind of work we aspire to: creative advertising that sets our client's message apart from all the advertising clutter." These winning commercials bring Half a Bubble Out's Telly Awards total to three, as they won silver for a documentary about Chico's Bidwell Park in 2006.
First 5 Butte County Children and Families Commission asked Half a Bubble Out to design a commercial campaign to effectively communicate the dangers of second-hand smoke. Taking an informal and upbeat approach, Half a Bubble Out's commercials creatively feature Redman dressed in a white lab coat and explaining – in playfully graphic detail – how cigarettes and cigarette smoke are filled with arsenic, formaldehyde, and tar. All of the commercials in the campaign end with the same refrain: "Stop smoking, or at least take the challenge and smoke outside."
Since 2002, Half a Bubble Out has creatively served clients nationwide in the areas of marketing, advertising, graphic design, web design, videography, and business consulting. Driven by the company motto of "Telling Your Story," Half a Bubble Out co-founders Michael and Kathryn Redman have always sought and continue to seek to do two things with their business: encourage and equip clients to achieve their goals with creativity and excellence in the 21st century marketplace. For more information, please visit http://www.halfabubbleout.com.
Contact:
Mirna Gonzalez, General Manager
mirna(at)halfabubbleout(dot)com
(530) 345-8295 x1011
680 Rio Lindo Ave. Suite 40
Chico, CA 95926
###