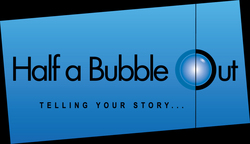 [Half a Bubble Out's] anti-tobacco ads have been highly effective and memorable – and have also reflected positively on First 5
Chico, CA (Vocus) June 10, 2010
Many people complain that their tax dollars aren't being put to good use – that their hard-earned money is carelessly wasted by politicians all over the country. To a certain extent, there's some truth to this frustration. However, not all government money is squandered by Washington or the State governments. In fact, some of it is even helping to creatively educate Americans on important public issues, such as the effects of smoking and second hand tobacco smoke. Not a simple task given the number of Public Service Announcements over the past few decades.
For example, government-funded First 5 Butte County Children and Families Commission recently asked Half a Bubble Out – a marketing, advertising, and business consulting firm in Chico, CA – to create a commercial campaign on the dangers of second-hand smoke. Knowing that much of the past and current anti-smoking advertising has been and is relatively ineffective, Half a Bubble Out decided to take an informal, upbeat approach to communicating the negative effects of second-hand smoke. The commercials they developed creatively feature company co-founder and CEO Michael Redman dressed in a white lab coat and explaining – in playfully graphic detail – how cigarettes and cigarette smoke are filled with arsenic, formaldehyde, and tar. The current PSA, which shows Michael smoking 680 cigarettes at once using a home made Shopvac contraption, has been the most popular of all five spots. "[Half a Bubble Out's] anti-tobacco ads have been highly effective and memorable – and have also reflected positively on First 5," says Maureen Kirk, First 5 Butte County Supervisor.
This anti-smoking commercial campaign was recently awarded two Telly Awards for excellence in advertising. The entire campaign, "Effects of Second Hand Smoke 1, 2 & 3," won bronze in the "Campaign – Not for Profit" category and their individual commercial, "Effects of Second Hand Smoke 1," won bronze in the "Public Service" category. "Every year we work hard to listen to our clients, create great marketing for them, and help them achieve their goals" says Redman. "These commercials represent the kind of work we aspire to: creative advertising that sets our client's message apart from all the advertising clutter."
Since 2002, Half a Bubble Out has creatively served clients nationwide in the areas of marketing, advertising, graphic design, web design, videography, and business consulting. Driven by the company motto of "Telling Your Story," Half a Bubble Out co-founders Michael and Kathryn Redman have always sought and continue to seek to encourage and equip clients to achieve their goals and increase their profits with creativity and excellence in the 21st century marketplace. In 2009, during the worst recession in decades, Half a Bubble Out's customers rewarded them by helping them grow a record 400%. For more information, please visit http://www.halfabubbleout.com.
Contact:
Mirna Gonzales, General Manager
mirna(at)halfabubbleout(dot)com
(530) 345-8295 x105
680 Rio Lindo Ave. Suite 40
Chico, CA 95926
###