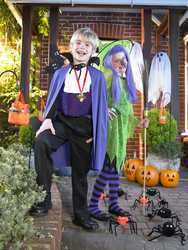 Poole, Dorset (PRWEB) October 16, 2007
If you're going to be taking time off with the children during the school holiday, arts and crafts superstore HobbyCraft has conjured up a few crafty ideas to help you keep them amused.
In fact, they've come up with a host of activities that you can enjoy without ever having to step outside your own front door or switch on a TV or computer screen - from playing games and telling each other stories to a whole host of crafty activities that the kids will love to do.
Whether you create hand painted pictures, colourful mobiles, pom pom friends or springy pets, young children especially will love the attention and time you spend with them - you could even get together with friends and have a kid's craft party.
For ideas visit http://www.hobbycraft.co.uk/LEADERS/leader.asp
To get you started you can pick up free project sheets at HobbyCraft, and between October 17 and November 4 you can enjoy 3 FOR 2* on selected kids kits at participating HobbyCraft superstores, which means keeping the kids amused over half term should be child's play. A typical HobbyCraft store sells more than 32,000 products for 250 creative activities, all under one roof, so there's always plenty of choice.
And with Halloween approaching faster than Harry Potter's Quidditch broom, HobbyCraft has also conjured up some wickedly simple ideas to keep your little witches and wizards amused over half term, having hours of fun making witches hats, scary masks, batty bats and spooky spiders for their monster bash!
Download step-by-step projects at http://www.hobbycraft.co.uk/ideas%5Flibrary/
Visit HobbyCraft and you'll also find plenty of scarily creative kits and costume ideas. For more inspired ideas and to check What's On at HobbyCraft, including free demonstrations, visit the Hobbycraft website.
For your nearest store you can also call free on 0800 027 2387.
Alternatively, if you're a parent looking for local kids' classes or workshops, a good starting point is to ask at your local school or library, or check out the information held on your local authority website.
With so much choice, isn't it good to know that planning how to keep the kids amused this Halloween half term doesn't have to give you nightmares!
Conditions apply, see in store or visit http://www.hobbycraft.co.uk from 17.10.07
For more PROJECTS and IMAGES please contact the Press Office:
Jan Goodchild 01202 596137
Claire Douglas 01202 596144
###