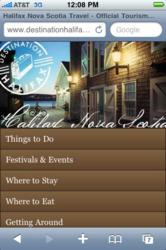 "Smartphone's are changing the way people travel," says Patricia Lyall, Destination Halifax President & CEO.
Halifax, NS (Vocus/PRWEB) February 14, 2011
Destination Halifax has launched a new Halifax, Nova Scotia mobile website just in time for the 2011 Halifax Canada Games to ensure that the more than 10,000 visitors to the Halifax region will have easy access to information through their smartphones.
Destination Halifax, the region's tourism marketing organization, has been marketing to web-savvy consumers through social media, an online itinerary builder and continually updated website. The mobile website, http://halifaxmobi.com, was developed in response to an increase in travellers using their blackberry's, iPhones and androids for information purposes. "Smartphones are changing the way people travel," says Patricia Lyall, Destination Halifax President & CEO. "With mobile check-in at airports, GPS and mapping capabilities along with email itineraries, people are depending on their phones when traveling. It was essential for Halifax to have a resource for smartphone users, especially in time for the many Halifax Canada Games visitors."
The Halifax, Nova Scotia mobile website contains some of the most visited content on the site, including Things to Do, Where to Eat, Where to Stay and Getting Around. The site has been integrated with Google mapping capability, so consumers can click on a restaurant, hotel, attraction or event and be able to find it on a map and get directions. Each listing allows users to connect directly to the supplier by telephone, email or to their website.
"There is a lot of excitement in Halifax this winter," says Lyall. "In addition to Canada Games events and activities, there is a lot for visitors to Halifax to experience – from specially priced menus at Halifax restaurants during Savour Dine Around program to live music and special Games-related exhibits at museums and galleries – and many Halifax vacation packages and travel deals to accompany the events. We want to make sure that everyone, from those visiting for the Games to residents, are able to have the latest information at their fingertips."
For more information about visiting Halifax Nova Scotia, visit http://www.destinationhalifax.com or http://halifaxmobi.com.
About Destination Halifax
Destination Halifax is a partnership of the Province of Nova Scotia, the Halifax Regional Municipality, the Hotel Association of Nova Scotia, the World Trade and Convention Centre, and participating industry members. Since its inception in 2002, Destination Halifax has operated with a goal of promoting the Halifax Regional Municipality as a year-round destination of choice for business and leisure travelers.
# # #